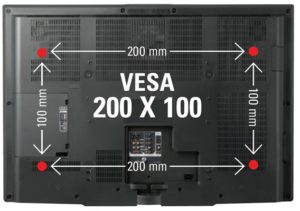 Understanding the VESA mounting standards
TV brackets in Singapore are a common feature that you will find with many people in Singapore. While that may be the case, what most people tend to overlook is the VESA standard, or even if they've heard about it, most people don't have a clue what it entails or why it is important. Therefore, at TVBracketSG, we'll teach you what the VESA standards are all about.
What is VESA standard?
The VESA interface standards defines the distance in millimeters between the 4-hole pattern that is usually located at the center or even at the lower part of the back of the TV screen. The VESA standards are used for the TV brackets and also the wall mounting systems. These standards are adopted by most of the TV brands. The most common type of the VESA sizes are 200X200 which is usually for the TVs up to 32 inches. For the TVs up to 60 inches VESA 400X400 applies and VESA 600X400 applies to the large screen TVs such as the 70 or even the 84 inch TVs
Finding the VESA size for your TV
There are so many methods that you can use to find out the VESA standards for your TV and the fastest way is by manually measuring the it. All you need to do is locating the 4-holes in the back of your TV. Follow the instructions;
Measure the distance between the holes horizontally.
Secondly, you need to measure the distance vertically.
Now that you have the Vertical distance and the horizontal one, you now know know the VESA sizes of your TV.
Available TV brackets for different VESA sizes
If you have your TV VESA sizes, be 100% sure to find the TV bracket that matches your TV specifications. There are so many TV brackets with different specifications, explore your options and find the ideal TV bracket for your TV here are the available options;
VESA 75×75
VESA 100×100
VESA 200×100
VESA 200×200
VESA 300×200
VESA 300×300
VESA 400×200
VESA 400×300
VESA 400×400
VESA 600×400
VESA 800×600
VESA TV bracket summary
For most of the TV brands in Singapore, as well as most of the TV manufacturers, most of them adopt the VESA standards and therefore, before shopping for the TV brackets, you need to make sure that you have the right measurements for your TV.
Therefore when you hear about the VESA standards, just know that it is the distance between the mounting holes at the back of your TV in millimeters.
One more thing to keep in mind is that whether the wall mount is fixed, tilted or even in full motion, the VESA standards will always be the same.