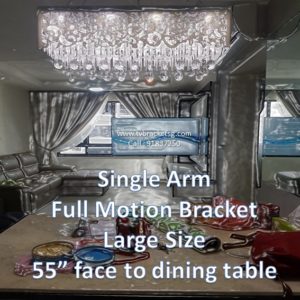 Customers in Singapore adjudged TVBracketSG at www.tvbracketsg.com the best supplier of TV bracket Singapore for many reasons. Our service is quick and competent; while our knowledgeable and skilled engineers will make sure they work things together to provide you with the relevant advice and recommendations, even before mounting your TV bracket in Singapore. Our workmanship is fantastic and will guarantee that all will look dazzling and worth it!
Read on to understand more about why TVBracketSG is the best when it comes to Singapore TV bracket supply and services.
It is now becoming more popular to mount TVs to a wall using TV brackets Singapore instead of placing them on TV stands because they are growing in size despite the fact that they are decreasing in profile and weight.
Wall-mounting your TV with our TV wall brackets will save you a lot of precious space and be an extraordinarily safe way to enjoy home entertainment in your family. There are many reasons to use a TV bracket Singapore supplied by TVBracketSG for your television.
On the other hand, you need a wall bracket that will stand the test of time, whether it is for a higher viewing profile, child safety, saving space or any other reason. This is what our Singapore TV brackets is all about.
Professional and Quality Television Wall Mounts
Wall-mounting your television in Singapore needs some steps, such as the right equipment, professionalism and the right knowledge. You need a TV bracket that fits the size of your TV in Singapore, the right place to mount the wall bracket in your home, and a second to none mounting bracket like the one from TVBracketSG.
A poor TV wall bracket can fail to become constant and secure your TV, to many problems. It can roll forward, making it hard to see. Your TV can even fall off from the wall, making everything complicating and cost you huge sum of money to repair. This is not the case when TVBracketSG handles the installation of your television.
3. Numerous Standard Mount Features
Another good thing about our TV brackets in Singapore is that they have quite a lot of standard features that set them far above and beyond your standard mounting kit. Each of them has modifiable tilt, a sturdy cover and supported by considerable warranty.
In addition, we have a number of the thinnest profile mounts available on the market, making them just the right fit for tight spaces. We take great pride in our products and services, while we are always willing to give the best customer service.
4. The Best Television Mounts
From our customer reviews and testimonials, you can see that TVBracketSG have the best TV mounts and the best supplier of TV brackets in Singapore.
Our wall bracket instruction manuals are understandable, absolute and straight to the point. As a result, turn to us at https://www.tvbracketsg.com/contact-us/ or Call / SMS / Whatsapp : +65 9183 7250 for further information concerning our products and services. Moreover, you can send an email to: enquiry.tvbracketsg@gmail.com for further enquiry about our numerous product line-ups.