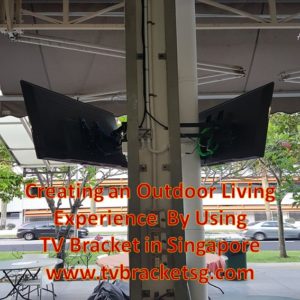 Having a tv bracket in Singapore mounted anywhere on the outside can be a lot of fun. It entertains and informs and keeps you in on the action and it is something that most businesses, restaurants, theme parks, stadiums and some residential homes have taken up with a lot of interest. Mounting the television on the outside ideally is a crowd pleaser, people are attracted to it and with the fact that most homeowners want to be trendy, installing the television on the outside has made this knowledge a must for most DIY homeowners. Mounting the television outside can be an expensive affair and you need to be prepared both technically and financially and also, it is risky. There are specialized televisions that are made for the outdoors. These televisions are designed to withstand harsh environmental conditions and with a better viewing experience that the indoor televisions.
Mounting the tv bracket in Singapore on the outdoors follows the same process as mounting the television on the inside. Therefore, if you are looking for the best mounts for your television, check our store for quality and affordable mounts. In addition, when it comes to mounting on the outdoors, there are certain precautions that you have to make as to ensure better viewing experience and safety of your television. As such, we recommend you talk to one of our professionals before you can begin the mounting process on your own. We have tons of materials to keep you up to date with the latest trends as well as all round advice on mounting. Check out our blog for more.
Know the difference between outdoor and indoor television
If you want to install a tv bracket in Singapore on the outside, there are some things that you must know. We have seen people make the worst mistake by installing an indoor television on the outside. It surely doesn't last long because the indoor television is not built to withstand harsh weather condition. Choosing the right equipment is the first and essential step towards creating an outdoor living experience. Therefore, when going for shopping, make sure that you have the right television.
Using an indoor television
For a fact, outdoor televisions are quite expensive and that is one of the reasons why most people opt for the indoor televisions. Most people who are not using the televisions commercially prefer to use the indoor televisions. It is a good choice since it cuts the cost significantly, however, it is not a long-term solution. It is okay to have a television meant for indoor viewing experience mounted on the outside but control the usage, but if you want to permanently fix your television on the outside, then look for a television that's rated for outside use.
Compared to the indoor televisions, indoor televisions have extra bright panels and the picture quality is enhanced in that it can be able to fight off glare. Therefore, under natural outdoor conditions, you will be able to get the best experience ever. Also note that for commercial applications, true outdoor televisions are rated for longer duty cycles and continuous operation. They are also able to fight things like wind, water cold and summer humidity. Therefore, it is advisable you get a specialized television to cut down frustrations.
Mounting the television
For the mounts, just like the televisions there are outdoor mounts and while shopping, make sure that you get one that is rated to be used on the outside. A normal mount, that is meant for the inside can deteriorate at a much faster rate under extreme weather conditions. One of the frequently asked question is if one can be able to use an indoor mount for outdoor purposes. This will depend on a number of factors such as, will the mount be protected? The location of the mounting and the weather conditions. However, you can use it, though it is very risky. Indoor mounts start to look very bad and they rust. This only means that when you least expect it, they could even fall apart causing damage. Outdoor mounts are built to withstand all the elements of the weather conditions just like the outdoor television.
Depending on your location, I would advise going for the articulating tv bracket in Singapore especially in areas where it is windy for most part of the year. They don't limit the usage of the television and they provide the viewer with a good viewing angle. In addition, you have to consider how to conceal the cable work because they too when leaved exposed can wear down rapidly. They too have to be rated for outdoor use.