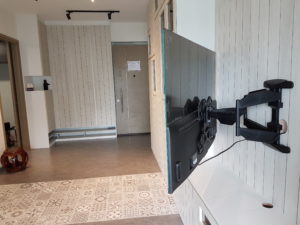 Finding and selecting the right TV bracket Singapore for your space can be a bit overwhelming, particularly if you are a complete novice. However, TV bracket selection and TV mounting is much easier with TV Bracket SG Singapore Company.
However, if you decide to choose TV mount for your home use in Singapore, here are some factors you need to put into consideration.
1. Corner or Wall Mount
You will probably need a TV bracket that is particularly made for corners if your plan is to install the TV on the corner wall. These will possibly comprise of totally articulating flexibility components, due to the fact that the TV will possibly be extended to some extent.
2. The Mounting Pattern on the Television
A good number of TVs now make use of standardized mounting pattern known as Video Electronics Standards Association (VESA) pattern.  This will guarantee that any wall bracket you decide to use for your television will attach easily. If your own TV comes with a different TV mounting pattern at the back due to a number of reasons, put this into consideration and select a well-matched wall mount accordingly.
3. Support Weight and Size
The TV bracket Singapore of your choice must support both the weight and size of your television. This is because wall brackets are normally rated by the compatible TV screen sizes as well as the weight that they can appropriately carry. Both the weight and the size of your TV are incredibly important to consider even as are thinking about the best TV wall mount for your home.
Depending on model or brand, TVs having similar screen size may weigh differently. TV bracket product descriptions will normally consist of the weight and size, so that you can choose the right one for your television when you want to buy one.
4. Compatibility with Walls
Many of the available TV brackets Singapore are compatible with drywall and, therefore, packaged with the hardware that you will necessitate to install the mount to drywall. This hardware comprises of drywall anchors and bolts, while it is strongly suggested that you should use stud support instead of anchors to mount your television.
With plastered or brick walls or something else altogether, you will need to buy a different type of hardware stronger and compatible with the different type of wall.
5. The Suppleness of Viewing
Would you like to be adjusting your TV once it is mounted? This is an essential thing to think about, because different TV brackets in Singapore provide different ranges of motion, as far as terms of viewing flexibility is concerned. A number of them will rotate up and down but not side to side. On the other hand, a number of them will spin side to side but not up and down. Some will even swivel in all directions, making the screen to be angled in virtually any direction.
Think about flexibility if you want your TV to be viewed from another room or have different seating arrangements. Nearly all TV mounts of nowadays can at least pivot and tit. But you don't need to pay more for adjustable choices, if you don't need to move your TV.
Conclusion
There are many factors you need to put into consideration when it comes to TV mounting. Follow the above tips to choose the right TV bracket Singapore. But if you need further assistance, seek the help of TV Bracket SG who specialises in TV Mounting Services in Singapore. They are experts in Full Motion TV Mount, Titling Bracket, Fixed Bracket, and TV floor Stand among others.