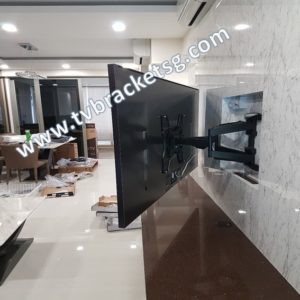 You most probably must have heard about TV brackets and the ruckus people creating regarding its installation. Installing a TV bracket in Singapore does not exactly require you to understand rocket science but people often commit some errors which might spoil all the fun.
In order to save you the trouble of making any of such common installing mistakes, we have come up with a short guide on what not to do, while mounting a TV bracket.
The Mistakes:
Never use the inappropriate wall mounting TV bracket. Every wall mounting bracket comes with a certain capacity. It can only hold TVs of a particular weight and size. Before buying a TV bracket, ensure its compatibility with your TV. After having done that, check for the type of TV bracket that will suit your purpose. Choose from among the different wall mounts that allow different movements of the TV.
Always check the strength of your wall on which the bracket is to be installed. If your wall is not strong enough, you might consider strengthening it before putting heavy weight, like a like a whole TV on it.
Most people make the mistake of choosing a wrong location for the TV bracket. From the viewing angle to the TV's exposure to the sun, everything has to be considered. Also, the distance from the switch-board needs to be calculated as well. Do not ever make the mistake of putting it just over the fireplace.
Mounting your TV at the right height is also very important. Hanging it too high or too low may cause you to strain your neck and that will not be fun at all.
Always plan before setting up the TV bracket rather than falling short of tools later. Have some extra HDMI cables help because you do not want to fall short of long cables and this might also cause your TV to topple down.
Never make the mistake of not securing and not double checking the mounting brackets. Before you are done, just give slight tugs to your TV from various angles to ensure that it is safely put in place and will not suddenly crash down, under pressure.
When your TV is suspended in the air, it might not produce a sound which is as clear and loud as it does when placed on a holder or table. Always connect extra speakers to have a better sound quality experience.
As long as you avoid these common mistakes, you should be fine and have a safe TV Bracket mounting experience.