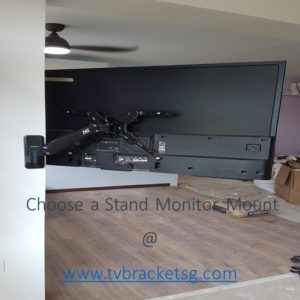 Whenever anyone is planning to make home or office more presentable, the need of a smart and vibrant TV is very important. It gives a very stylishly look and also shows the taste of the honor. TV Monitor Mount is a strong but flexible ergonomic arm that supports the monitors. There is a major difference between traditional and monitor mount, as it allows you to adjust the position, lock the position, and adjust height, angle or position the monitor according to your choice. But on the other hand, the traditional monitors were in stationary locked position. Even though, if you have two monitors, you can use monitor mount to find the impeccable arrangement of the two, so they are smooth and easy to look at. So in this regard TV bracket in Singapore is a company that is totally trustworthy and help to buy in the right monitor mount for its customers.
Major qualities of using Monitor Mount
There are many benefits of using monitor mounts TV bracket in Singapore. The very first one benefit is that it increases the work efficiency level. For instance, if you are using only a laptop to do your work, you are probably wasting a lot of time because it can be frustrating to switch back and forth between multiple windows while just to complete one simple task. So, having two monitor mounts is a better choice as you will have three screens, and you can easily find, view and edit your work.  It also reduces your neck pain. When you are spending long hours to complete your work, it would have started pain in neck and you cannot even concentrate on your work in laptop. Instead of using laptop, you can replace it with the monitor mount and can take care of your health and at the same time to produce the quality work. As such monitors will not only allow you to adjust the screen and its position. It will reduce the discomfort and for a correct ergonomic position, you should be able to look at your monitor straight-on without looking anywhere and your neck should be relaxed. The use of monitor mount will also help you to prevent the eye strain. It is very tiring to star the screen the whole day, it will make you tired, dry eyes and particularly, if it is a screen that is too close or too far from your face. So monitor mount is about an arm's length away from your face with the top of the monitor titled slightly away from you. Monitor mount also gives you a choice that you can have a sit-stand versatility. Like it is not necessary to work only in one single position. When you feel tired, you can change you position, e.g. if you are working in standing position you can sit and vice versa. Monitor mount provides the facility of enhanced focus. It helps you to improve your posture. Normally, when you are using laptop, you do not care about the position and posture, but after sometimes, you start uneasiness and pain in different parts of your body, specifically neck. After using, monitor, desk and chair are all ergonomically aligned and will reduce the work tension as well. On the other hand, if you are uncomfortable, even unconsciously, it's hard to focus. So improving your posture will not only prevent back problems, it will make you happier, more active and productive as well. So, to sum up about the benefits and advantages of the use of the monitor mount, it can be said that they are to help in;
Still-stand versatility
Enhanced focus
Improved posture
Remove the neck pain
Increase work capacity
Make you more efficient
So, customers/consumers can easily trust and reply on TV bracket monitor mount in Singapore. TV bracket provides you installation services as well. Customers can mount at home but it is recommended that it is best if you hire a company like TV bracket. If you do installation by yourself, it looks simple but sometimes might meet some issues and there the company professionals are ready to help consumers. The company has reliable professionals that are ready to help the customers in fixing and ending any problem regarding installation. This is a trusted company and one can trust blindly, it has its name and a very positive repo in the world of industry from the past six years. It is a registered company and pays much more importance to customer services.