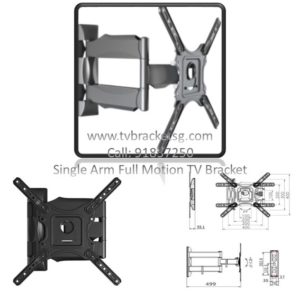 Are you looking for a quality TV bracket Singapore? Look no further than TV Bracket SG. They provide durable TV brackets with excellent installation service.
Choosing quality TV bracket Singapore is the secret of proper TV mounting. Although quality TV brackets Singapore may be a bit expensive, they are worth the value. Cheap TV bracket quality is not good for the mounting of your expensive large-screen TV.
A quality TV bracket will ensure a good wall mount and make your television as flexible as it should be so that you can watch it from the optimal angle.
What Makes a Quality TV Bracket Singapore?
It may look as if all TV wall brackets are the same at first, but the fact is that they have a number of important discrepancies such as TV size compatibility, tilt range, and weight capacity. It is recommended that you choose your television before buying the TV wall mount to make sure they are a good match because a number of wall brackets are just compatible with televisions up to a particular weight and size.
Weight and Universal TV Brackets in Singapore
TV brackets in Singapore are in different sizes to go with a wide variety of televisions. Some will only go well with televisions between 20 and 32 inches, as others can match well with models between 20 and 60 inches. Whatever the case, a professional TV mounting service will look for quality TV wall mounts that go well with the widest range of television sizes.
On the other hand, they will look for VESA Compliant TV wall brackets Singapore. These particular TV wall mounts can fit nearly every variety of TV on the market.
Cost
Cost is another thing that makes TV wall mounts. Expensive TV brackets are always of durable quality while the cheap ones of low quality that may expose your TV to the risk of falling off the wall. TV Brackets SG recommendations focus on quality wall bracket models with the best specifications.
Popularity
The best way to know if a TV wall mount is of good quality is to read its user reviews. In other words, we read many user reviews and looked at the popularity of each TV bracket Singapore, compared to similar models. A popular TV wall bracket with very few bad reviews is a sure bet.
Conclusion
One thing you need to understand before buying your TV wall mount is that cheap TV bracket Singapore quality is not good for your TV mounting. There are a lot of similar TV brackets on the market but when it comes to quality, they are different.
TV Bracket SG is a supplier of different types of TV Brackets and no other supplier in Singapore that can boast a product line-up that contains a lot of different types of TV Brackets, TV Floor Stands and TV Mounts. They also offer TV Mounting and other Services in Singapore.
If you want to learn more about their services, please feel free to check with them and you can also ask them questions bordering your mind. There is always someone to attend to you.