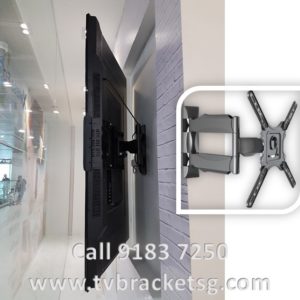 Your Plasma and LCD televisions are considered as expensive pieces of electronic items. Therefore, you should try as much as possible to preserve them from falling from their mounting accidentally. It therefore means that it doesn't make sense to buy a cheap and inferior TV bracket Singapore that could break your screen panel as these brackets are designed to hold this expensive equipment.
It is recommended that you buy your TV wall bracket from reliable and expert engineers like the TVBracketSG in Singapore to avoid the inconveniences it hand hassles associated with inferior brackets. We are the only company in Singapore that supplies quality wall brackets. Our price is a little higher, but you have peace of mind and guarantee that your television is safe and secure on the wall.
Just like other high quality TV brackets in Singapore, our TV wall brackets are tested and guaranteed to hold certain weight limits. Therefore, before you buy a TV bracket in Singapore, you must know the weight and size of your television. Once we know the brand and model of your television at TVBracketSG, we know the weight and size and give you the appropriate TV wall mount for it.
If you are shopping for the TV bracket yourself, then make sure you give some chance for contingency, despite the assurances from the manufacturer that the TV bracket can conveniently hold the weight of your television. In this regards, the weight of your TV should be less than the weight that the TV wall bracket is able to carry. What constitute the difference in weight is what you consider comfortable and the cost.
Don't go for something rather cheap because the more weight the television bracket Singapore is able to carry, the higher the price. Furthermore, it might not be able to maintain the weight for a long period of time if you provide for a low contingency allowance.  A number of TV wall brackets Singapore have some features incorporated in their design. For example, if a TV bracket is able to carry 100 lbs, it may likely have a safety factor of additional 30 lbs to 40 lbs. it is safer to give an extra factor, since most TV brackets in Singapore come with a safety factor incorporated within their design. This will guarantee the safety of your TV.
Conclusion
Buy a TV bracket Singapore capable of holding one third more than the weight of your TV. In addition, make sure your wall can accommodate the entire weight of the TV brackets and the television. Provide some extra contingency factors when you are securing the TV wall brackets to the block or studs wall.
Also, make sure the attachments and screws can hold the combined weight in addition to one third more of the weight. This may need additional holes, bolts, and screws to secure it firmly to the block or studs wall. this will make you watch your TV without having to worry that your TV will slip and fall down.