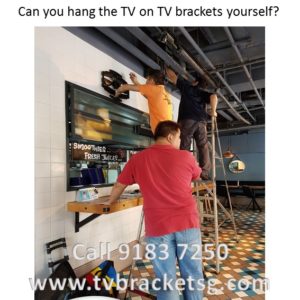 Mounting a television is an easy and a quick process even though it may seem to be quite a rocket science. The procedure involves only a few simple steps. 4 bolts need to be put on the wall on, which you want to attach it. On these bolts, a bracket needs to be attached. Now, the TV can be easily hung on it. But as simple as it sounds, there exists some precautions, which need to be taken care of. Such tips and precautions are discussed below in detail. Have a look at them before you start up the task.
Focus on the location
The television needs to be fixed at the right location. Factors such as a right angle, glare directions and spot of your room, aesthetic appeal needs to be considered while finding the right spot to attach a TV bracket in your room. It needs to be considered whether you will be able to watch the television comfortably while sitting at any point in your room.
The eye-level also needs to be kept in mind while setting up the TV. Also try choosing a spot, which lies nearer to the electric socket. Such a consideration will help you hide the unsightly wires and cables with ease. Also, ensure that the television is attached l in a proper alignment. Even a slight tilt will look too awkward and unsightly.
Keep the tools handy
If you are thinking about doing the task yourself, you would need some tools like a pencil, tape measure, screwdrivers, level, drill and its assorted bits, stud finder, and a compatible wall mounting kit. You might also need some extra tools, depending upon the type and size of your television.
Ensure that you hide all the wires and cables
You would definitely want your room to look good. Cables and wire in sight look quite ugly and degrade the whole look of your room. You will need to purchase a few kits like raceways or any other TV wiring kit. Make sure that the kit is compatible and suitable to your television model and size.
Be ready to clean the extra mess
If you are thinking about attaching the TV to a wall yourself, you might create some extra mess. As you are not an expert, you might drill extra holes in the wall or drill it at the wrong point. Television also needs to be handled sturdily while you are attaching it to the mount.  Make sure you plan it out well and make use of the pencil to mark the points.
Here, are the tips and tricks, you should keep in mind before you start to mount your television to the wall with the help of a TV bracket in Singapore. Make sure you follow them with an extra detail. This whole process is quite a tiring one and even the slightest mistake might ruin it. It would be best to hire a professional expert like us while you stay at ease. We  are able to do it in less time and with perfection so that you don't have to worry about the whole installation process. So try our services to make the best out of this idea. We offer TV brackets which are high quality, so please give a chance to serve you and show you our excellent workmanship skills!