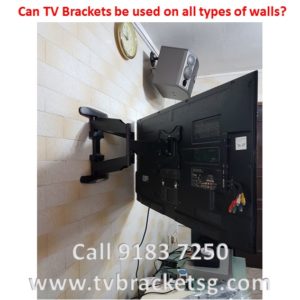 Mounting a flat-screen TV on the wall greatly enhances your viewing experience and saves a lot of space. Those who are looking forward to buying TV brackets in Singapore are always curious to know about their options. There are many different types of TV brackets that can be used for all types of wall materials. Most of these wall mounts can easily attach to your walls.
Primarily, there are two types of walls:
Load bearing wall
These kinds of walls carry loads imposed on them from slabs and beams above them including their own weights and then they transfer it to the foundation. Structural members like walls on the floor above, slabs, and beams are supported by a load bearing wall. It can either be an interior or exterior wall; it braces from the roof to the floor.
Some common types of load bearing walls are stone wall, engineering brick wall, masonry wall, retaining wall, precast concrete wall, etc.
Non-load bearing wall
These kinds of walls do not support any structural members like slabs and beams and only carry their own weight. Mostly, these walls are just used as a partition wall to separate rooms from the outside. This kind of wall is also called an interior wall.
Some common types of non-load bearing wall include brick wall, hollow wall, facade bricks, and hollow concrete block.
TV bracket for load bearing wall
Apart from a few exceptions, you cannot hang TV brackets on any wall structure. Large LCD TVs need brackets of the appropriate size, which in turn need a strong support. Here is where load bearing wall structures come in. In such cases, you will always find a spot on the wall where two studs are available with no electrical wiring in its path. But, be sure to check the integrity of the intended wall before working on it further.
If this becomes a problem for you, you can install a false wall between the studs to provide a strong anchor point at the right place. Or, you can simply choose a different bracket or television set that is compactable with your available studs.
TV bracket for non-load bearing wall
It is often asked if non-load bearing walls are perfect for hanging heavy things like an LCD television securely since these kinds of walls are typically weaker in nature than load-bearing walls. Yes, you can hang your LCD TV using a TV bracket. But before you do this, it is necessary to take some specific steps and the right equipment to complete the job.
You will need to purchase the right TV bracket that is designed for non-load bearing walls. Once you have decided where to hang your TV set, you will have to find two vertical studs within the wall that corresponds to the holes in the TV bracket; these holes indicate the strongest part of the non-load bearing wall. If you have difficulty locating the vertical studs, you can use plasterboard anchor bolts screwed into plasterboard walls to create a stable and secure point to attach the TV bracket.
Considering the type of wall is an important step when it comes to mounting an LCD TV set. If your wall is unable to handle the weight and pressure, the TV might fall off and shatter into pieces. You should always remember that even the lightest TV set is going to be heavy and steps should be taken to understand the built of the wall firsthand. You can try our range of quality TV brackets that comes excellent workmanship skills. We also offer a professional installation service. So do look out for us!