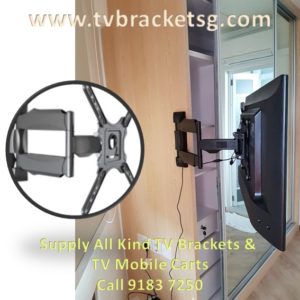 One of the best things about flat screen television sets is their light-weight and shallow depth, which allows them to be mounted safely on a wall. This gives you a very space-efficient, safe and clean installation.
Since there are a very few TV sets that include their own wall-mounting hardware, most likely you will have to purchase a mount separately. There are primarily five different types of wall mounts, which range from basic fixed-mount designs and offers unlimited flexibility for TV positioning. These TV brackets are:
This is the most basic type of wall mount. In most cases, this can be all that you actually need. Alternatively, it is also referred to as a low-profile or flat TV bracket. This bracket allows the TV to be placed as close as it can to the wall and does not stick out into the room.
The tilt mount is also a low-profile TV bracket except that it allows the TV to tilt up and down for better viewing experience. Mostly, these brackets can tilt up to 15° but can vary from one model to another. Other than this, it is very much like a fixed TV mount.
A full-motion TV bracket is a one that swivels from one side to the other for proper viewing adjustment. This type of TV bracket is the best when it needs to be angled for the best viewing experience. It is also great for a room that has more than one proper viewing spot.
Mantel mount
While watching TV above a fireplace might seem to be a popular opinion of many, it can literally become a pain in the neck over a span of time. In cases like these, a mantel mount allows you to pull your TV set out over the mantel whenever you wish to.
As the name suggests, the ceiling mount is a TV bracket that attaches itself on your ceiling. This type of mount is useful especially when you have limited wall space. Ceiling mounts can either be fixed or can be mounted or tilted, depending on the model.
Apart from the above, there are no such buying guides for purchasing a TV bracket in Singapore. Most of these brackets are VESA-measured and approved and will fit into any onto any flat screen TV brand. If you are looking for the best TV brackets or simply need assistance in any way possible, feel free to contact us.