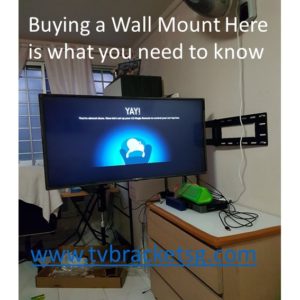 Having a wall mount is a great idea. Today's thin flat screen TVs look really great when mounted on a wall, not to mention the fact that they help you save on space. It is important to note that not every television mount you find in the market will be of the same quality. Before purchasing the Tv mount, there are a number of things you need to consider.
Your TV specifications
You don't want to go out in the market and get just any type of a wall mount. You first need to check your TV's specifications. Most of the TV mounts are designed to fit a specific size of a TV set and weight. There are mount designed for a 32 inch TV and if you go ahead to mount a 50 inch TV, there are high chances that your TV will crash down. Therefore, it is important that before buying the mount, you are aware of your TV specifications.
Consider the flexibility
While shopping for a TV mount, especially online, you want to choose a TV mount that is flexible. If you want to see your TV from other rooms, a good option for you to choose from is the pivoting wall mount. This helps you change the direction in which the TV is facing to optimize the picture on the screen. If you are considering to mount the TV above the eye level, then you need to consider investing in a TV mount that you will be able to tilt down to improve the quality of the picture. Fortunately, with most of the mounts available, you can be able to tilt and pivot.
A fixed or a moving mount?
This is one other factor that you need to consider. Are you looking for a mount that you can be able to move or one that is fixed on a wall? If the TV can be positioned at an ideal height which means, you will not be accessing the TV ports on a regular basis, the fixed TV mounts will help you simplify the installation and the TV will be close to the walls.
Positioning the TV
Lastly, where do you intend to mount the TV? If you are mounting the TV in the corner, you will need a specially designed TV mount for the corners. Here, a fully articulate TV mount is necessary to secure the mounting plate to the wall and keep the TV extended at all the times.
While selecting the TV mount, it is good that you keep in mind the mount style that you will need and pay special attention to the size and the weight that the mount can be able to hold. If you need help installing your new TV mount, contact TV Bracket in Singapore. Once the mount is installed, all you need to do is sit, relax and enjoy all your favorite shows.