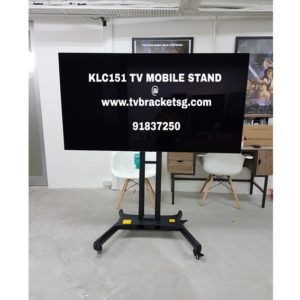 TV stand Singapore is an important tool necessary for all homes. They are available in diverse designs and sizes for televisions. If you are looking for a reputable company to supply you durable wall mounts and TV stands in Singapore, look no further than TV Brackets in Singapore. We sell durable TV stand Singapore with good installation service based on our more than 5 years industry experience.
When it comes to the supply of TV stands Singapore, no other supplier has a product line-up that has different types of products like us. We sell quality TV stands and all types of universal TV Brackets in Singapore. In addition, our good and professional installation service will boost your viewing experience.
Our product line-up comprises of diverse kinds of TV Floor stands, TV wall mounts, full motion TV mounts, tilting brackets, and lots more.
The fact that we sell quality TV stands and renders fast and reliable installation service makes us stand out from the crowd. When it comes to TV stands sales and mounting service in Singapore, we are unbeatable. We have superior workmanship and will make sure you get the best value for your money.
Which TV Stand Singapore will Fit?
If you are looking for a TV stand for your new television in Singapore, keep the following tips in mind so that you will have no problem in shopping for the perfect stand that will last long.
When you are shopping for a TV stand, think about the size of your television to know how big the stand you need will be. To hold your television perfectly, make sure the top of your TV stand is wide and deep enough. The wider your TV stand in Singapore, the more structural support it needs to be in shape.
On the other hand, heavy televisions will distort wooden TV stands with no rigid construction, but a glass TV stand will be an excellent substitute. However, there are stands that come with mounting brackets, making your TV float. These types of stands are much smaller than the conservative entertainment centres and will minimise the need for a surface area.
TVBracketSG have universal TV stands that will enable you convert a wall mounted TV to the one that will sit on furniture but have misplaced the stand or legs.
Buy all your TV stands Singapore supplies and services from TVBracketSG. We are the best suppliers of quality and durable products and services. Our products include the following:
(1) Fixed Brackets
(2) Tilting Brackets
(3) Full Motion Single Arm Mounts
(4) Full Motion Double Arm Mounts
(5) Ceiling Mounts
(6) TV Table Stands
(7) TV mobile Stands
(8) Gas Strut TV Mounts
(9) Gas Strut Desktop/Monitor Mounts