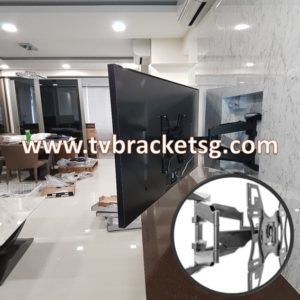 Do you want to free your new TV from its TV stand and fix it to the wall? Then you need TV bracket Singapore from TVBracketSG. This is due to the fact that there is nothing better than a wall mounted TV for the ultimate in smooth sophistication. TVBracketSG has the perfect Singapore TV bracket for you, no matter the size of your television.
Our TV Mounting is a popular service in every home in Singapore. Our TV wall mounting service will make your house appear neat and refined.
Wall Mounting Your TV Bracket Singapore
When you want to wall mount your TV in Singapore, you need to use the service of a registered company. There are quite a lot of freelancers in Singapore claiming to be registered companies, but they are not registered. TVBracketSG is a registered company with good reputation in Singapore.
Pricing
Many of the freelancers offer very cheap price when it comes to TV bracket Singapore products and mounting, but their workmanship skills are very poor and below expectation. Unfortunately, customers' who partronise them didn't know this.
Our pricing is not the cheapest but it is affordable and competitive. You can find very cheap TV bracket Singapore outside, but the truth is that the material and quality is not good enough, meaning that they are not solid enough to hold the weight and size of your television.
Although we have few customers who engage the service of cheap and unregistered freelancers, but in the end the freelancer TV installer never turn up and even MIA, making them (customers) come back to us. We are a trusted company that provides good-quality products in Singapore.
Some freelancers will write that their TV brackets Singapore can hold a very big television. But as a professional TV bracket installer in Singapore, we know quite well that the bracket is unable to hold it due to the fact that the bracket metal is very thin and not solid. The TV hang up to the bracket is very frenzy.
Buy Your TV Bracket Singapore from TVBracketSG and Engage their Service
Television mounting is not easy.  The best solution is to leave the installation service to TVBracketSG in Singapore. Apart from the fact that we are a registered company with integrity, we are professionals with experience in mounting televisions on walls. Moreover, you will save time by having a TVBracketSG expert come to your aid, if you don't have the equipment.
Choose TVBracketSG to buy your TV brackets in Singapore because we offer competitive prices for our services and carry out top quality finishing. If you need quality products and service in Singapore, you are advised to partronise TVBracketSG as we are passionate about serving home and commercial owners in Singapore effectively. You will always have value for your money.
Visit our website at https://www.tvbracketsg.com or contact us today at https://www.tvbracketsg.com/contact-us/ or Call / SMS / Whatsapp : +65 9183 7250 to buy your TV bracket Singapore or book your TV installation appointment and other products and services. You can also send an email to: enquiry.tvbracketsg@gmail.com for further enquiry about our product line-ups.