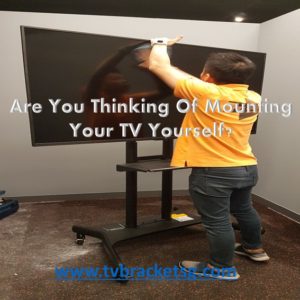 Mounting your TV at home may not seem like a difficult idea but they are a lot of things to consider while doing so. You might as well need to ask yourself some questions if you don't want any damages to be done to your TV.
Do you have all the tools needed to mount a television on your wall? Do you know the perfect location that will be best for your TV? Do you have issues with which TV brackets to use? Do you have a cord-concealing plan? This may seem to be very challenging but it is needed. To avoid any complications, you need to hire a TV mounting service to deal with them for you.
It looks simple but during installation, you might find issues since you are not an expert, don't get anxious! You can always hire our TV installation services to solve it immediately on the spot.
"TV Brackets in Singapore" supplies varieties of TV Brackets and stands and we also offer installation for all Display TV. We also give professional advice to those finding it difficult to choose the appropriate stands for their TV.
Some people feel that they don't have to mount their TV on the wall probably because of the stress they will have to go through while doing so. You may imagine your TV falling when there is a great storm but that won't happen if you use a professional company like the TV Brackets in Singapore.
More space: Gone are the days when the world makes use of cabinet TV that really occupies space. Now we all make use of the sleek, light weighted TV like our Plasma and all. Mounting your TV will make your house more spacious.
A very good viewing angle: you don't have to maintain a particular position for you to get a better view of the TV screen. When the TV is mounted on the wall, you can watch from any angle and you will still get a very good view
Safety: the last thing we want is to get our expensive TV screen damaged or scratched because of our carelessness. So it is best to mount it on the wall where even the children who are always curious can't touch.
Why Should You Hire Our Company?
Instead of going through all the stress all by yourself which can actually affect your TV if it is not well mounted. You can always book our well-equipped installers to tackle the process for you with no complaints.
We are professionals: TV Brackets in Singapore is a professional company. We also give professional pieces of advice to our clients. We are concerned about our clients' needs and we respect that.
Our products are quality: we supply a wide variety of TV Brackets which are Quality. Our clients don't have to get riled up over buying fake products because we only sell durable and quality products. We give a modified TV Bracket to meet Clients' requirements.
We are effective, fast, and reliable: our professional teams are very fast and efficient. Our services are hassle-free and prompt.
Do you have a TV emergency and you need a company to help fix them?
TV Bracket in Singapore is the best option.
We are trustworthy: there are many freelancers without a registered company. TV Brackets in Singapore is a trusted company and they are well-equipped. We have been in this line for over six years now. Trust us to be very effective and reliable.
There are a lot of things that our clients can benefit from us. Our customer service is very important. We try our best to take care of our customer's needs by giving professional advice and also meet their requirements. We also reduce the risk of damages to your wall and TV. We give you a precise and accurate service at our clients' convenience. All these are just to ensure a better relationship with our clients.
You don't have to worry about the location, required tools, and cord-concealment. We got it all covered for our Clients. All you have to do is book an appointment and the rest is covered.
Don't worry about the price, it is affordable! The fees chargeable are reasonably adequate and our products and services are indeed good value for money.
Do well to book our well-equipped installers today to set up your TV and enjoy a safe and convenient view.