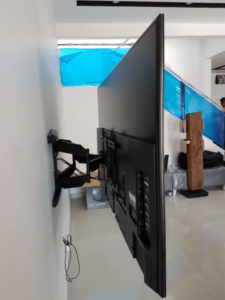 If you are a restaurant or eatery owner and renovating one or in works to open a completely new business then you might as well devote some of your resources to a good set of TVs or monitors displaying your menu. Most fast food restaurants of the day have multiple monitors cascaded in line which display the menu or promotional offers. Researches have shown that customers find it easy to read the menu on display screens and bulletin boards than the conventional paper menu card. Set of monitors or a singlewide Digital Signage unit displaying the menu not only make it easier for the customers to read but also make the place attractive. While some Fine-Dine restaurants do not have menu displaying monitors mostly associated with fast food chains but they have started using TVs on TV stands displaying notices or 'special dish' of the day. According to a survey by Digitalsignagetoday.com, restaurant owners have reported 5% increase in sales after installing digital signage display for menus.
How are TV/Monitor fixed as display the menu?
If your food joint is in a small area, we would recommend you to use one or two displays using Tilting Brackets, Ceiling Mounts or Full Motion arm depending upon the location and requirements.
If you have a small to medium restaurant or food joint, then we recommend using multiple displays or a single large unit. Large units are multiple displays are hung using multiple ceiling mounts.
TVBracketsSG will set up the mounts on custom specifications according your needs.
What features will a ceiling mount have?
If you use a single TV or display monitor you are free to use any type of brackets or mounts you like. In such cases you will get flexibilities as per the model. For example, you get two way adjustments in a tilting bracket, 6 way in a fill motion mount. But we have already discussed above about the best suited mounts for restaurants.
A ceiling mount with a single unit can tilt -5°~ +15° and roll -30°~+30°. A ceiling mount with a large display unit cannot roll but only has tilt feature. A ceiling mount supporting two or four bracket held TVs, however can roll.
If you are restaurant owner who is renovating a restaurant and already have older LED/LCD TVs or monitors, we can still configure your older TVs/Monitors to be used as digital signage as our TV Bracket in Singapore are VESA compliant.