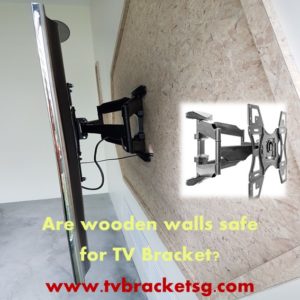 Have you at any point thought about whether you could mount your TV bracket on a wooden wall? The truth is several other factors come into play if you're attempting to answer this question, or if you have decided to mount on the wooden wall but need more information on the whole process.
YES, TV brackets can be mounted on wooden walls. Importantly the sort of wooden wall you have in the mounting region is the key. For example, some buildings are made with plywood while others have drywall.  Not every structure has solid wood walls, some are even made with light wood or the wood is used in layering the apartment to act as a spacer between the real walls and the apartment wall.
However, there are apartments that do not have wood paneling as the wall is constructed with solid-in-groove wood. In a scenario like this, if possible, create grafts into the wood to help in the mounting of the Tv bracket. The reason for the graft is to help you determine the wood strength and thickness. Some wood types might be thick but not strong. In such situation a direct drilling into the wall might not be sufficient to anchor your Tv mount.
Installing for wooden solid wooden walls would require drilling. These holes would be utilized as an anchor point for our installations. Be that as it may, it is vital you ensure your wall has no internal wiring, to avoid destroying previously made connections.
If your structure has wood paneling walls, you need to think about how thick the wooden panels are before drilling into the wall. E.g. How thick are the wood boards, and how far separated are they. Since some TV bracket installations would want to mount your TV on the wooden boards to achieve maximum strength. You can visit our website to go through our work and jobs we've delivered.
The next factor to consider independent of your wooden wall type is wood quality and strength. Not all Woods are equipped for holding a TV bracket for an extended length of time. Eventually in time, the TV mount may tilt over. So, it's important you correctly recognize your wood type before mounting the TV bracket (that is in case you're installing without anyone else).
Another factor to consider before mounting your TV bracket on the wall, is the weight and size of your TV. This fact would aid you in purchasing the right TV bracket, and help you in determining if your wood can sufficiently hold your desired TV bracket.
At TV bracket Singapore, we have had several installations  concerning mounting your TV on the wall.  It is always important that these factors are considered before you go on to mount your TV on the wall. Wall mounting of TV is not restrictive, in fact some interior designs use this method to beautify the home or TV installation point.
It is absolutely safe to mount your Tv bracket on wooden walls, just be sure to take the right steps before going ahead with your installation. With the observance of this recommendations, you could mount your tv bracket at any angle of your building.
In the case where you have a change of heart about mounting your TV on the wall. There are several other TV brackets available for use. For example at TV brackets Singapore we have TV brackets in different ranges such as; fixed mount , tilting mount full-motion mount (this variation has the single-arm  and  double-arm option), there are an array of TV stands both mobile and table TV stands. These mounts can be explored in details at  Tv brackets Singapore  to offer you a variety.
In conclusion, all these factors can be easily handled by us at Tv brackets Singapore . We would advise that you get the help of a professional to determine if your building structure can accommodate your dreams, and give you other options if your structure is not well suited for the installation. There are always different options to pick from when it comes to TV mounting. Remember that with the help of a professional you could easily sit back and let us build your dream for you.