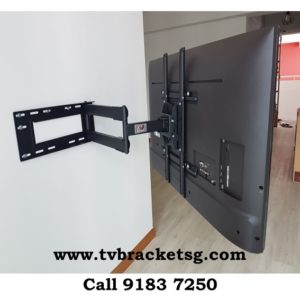 As we already know, mounting your flat screen TV set on the wall can drastically improve flexibility and viewing quality. But most people are hounded by the question – are TV wall mounts safe? The answer is definitely yes. In today's time, wall mounts are fitted with several safety features. These features are very useful, especially if you have pets and kids.
Television sets from the old days were heavy, bulky and huge. Someone could significantly get hurt if the appliance were to fall on them. TV sets today are completely different from their predecessors – lightweight and slender. But with small stands, there is a chance that the appliance could get misbalanced and fall, especially those with large screens.
Although modern TV sets are not as heavy as their ancestors, a falling flat screen TV set could potentially injure and even possibly kill your child or pet if it falls upon them. Hence, placing your flat screen on the wall is the safest bet you can make.
What can be done?
If you have an entertainment centre in your home, you can easily anchor your TV set on the wall. Most wall mounts are very cheap and easy to install as well. TV mounts are fitted with an anti-tip strap that will secure your TV and your furniture together. These straps are very strong.
TV mounts today can also house your accessories and other electrical components. You can easily install a streaming device panel behind your TV to hide small streaming components like Roku or Apple TV, keeping them out of reach and sight of mischievous little eyes or paws. Also, the last thing you would want is your kid to pull out the wires or cords. But, you will be glad to know that TV mounts are also capable of hiding these components after the final mounting has been done.
With TV mounts, your room gets an aesthetic boost as well
Of course, the safety of your children or pet is quite important, but you would also want to get the maximum viewing benefit from your TV set as well. TV wall mounts allow you to alter the position of your TV screen for the best viewing angle. You can even change the aesthetic of your entire room.
If you are looking for TV bracket Singapore, do not hesitate to get in touch with us. Our collection of the best TV mounts will offer you the best viewing experience and are fitted with a wide array of safety features, thereby making us one of the forerunners in this industry.
How to verify whether TV height is enough?
Your living room is just incomplete without a TV set. There are also others that feel the same about other living spaces in your house like the kitchen, home office, bedroom, etc. The procedure is easy – purchase a TV set, bring it to your home, and find the ideal spot of it (which can either be mounted directly on the wall or placed on a cabinet or table). If you are planning to mount the TV set on the wall, things can get a bit complicated and you might find yourself surrounded by certain doubts like the approximate height for mounting your TV set, etc.
If you are planning to mount your TV set or making use of a TV stand, it is important to estimate the height of the TV set. After you have installed the TV set, it is important that the viewer's comfort is kept as a high priority. Apart from minimizing reflections, the key is a comfortable viewing position.
Determining the ideal height of the flat screen TV set is not as simple as most might think. To discern the ideal height needed for the mounting, you will need to understand a lot of different aspects of the TV itself like the viewing angle, eye-level height and the viewing angle, and its size.
Things to remember for optimal TV height
Eye-level height and the viewing angle
While watching the TV, your eye level is calculated when you are sitting, not standing. You will need to measure the distance from the floor to your eyes to estimate how high you will be sitting. When it comes to the viewing angle, the TV should not be mounted more than 30 degrees, according to the Society of Motion Picture and Television Engineers.
Viewing distance
The ideal viewing is based on the size of the TV set. For the best viewing experience, you need to divide the size of your TV screen by 0.55. For instance, if you have a 42-inch TV set, the optimal viewing distance would be 76 inches away from the screen. Similarly, for a 65-inch TV screen, the optimal viewing distance would be 118 inches.
Size of the TV set
The size of the TV set only includes the viewing area of the TV. Knowing the size of the TV's viewing area will help you determine at which height you should mount the set. It is important to remember that you are not judging from floor to top or bottom, but from floor to the centre of the TV set.
If you are looking to buy TV bracket Singapore and fit them at the optimal height, all you need to do is contact us. Our services are very professional and we will make sure that your TV set looks great on your wall.