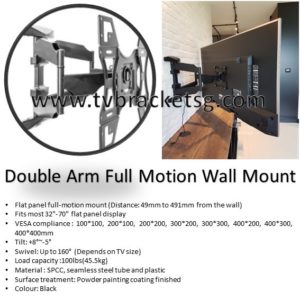 A flat-screen, sleek, and stylish looking television looks so outdated and ugly sitting on a table stand or any other furniture. Not only that but it also crams up the rooms, taking too much of our precious space. It totally changes the look of your room altogether.
Moreover, in Singapore, almost everyone is using TV mounts to mount their television on the wall. They seem to be quite a necessity for us. If you are still not convinced about their utility, then the below-mentioned reasons will surely motivate you to buy it soon. Read on to know more about it in detail.
Fewer obstructions in viewing
Obstructions in view caused by a person, pet, or any other thing seem to be really irritating, while you are watching your favourite series, a match or anything else for that matter. With the help of a wall mount, the position or the level of the television can be raised. Also, a flexible type of a wall mount can help you adjust the angle of your television screen. This way a wall mount can help in eliminating such a problem.
Helps prevent thefts
Thefts are a common thing in Singapore or  in any other country for that matter. Televisions cost you quite a few dollars in Singapore and you would not want a thief to easily get away with your TV set. Securing your television to a wall or a ceiling makes it extremely hard for it to be stolen away. The thief would need to unfix it from the wall and that would take a lot of time and effort. This will reduce the chance of the television being stolen away.
Helps in avoiding a disaster damage
If you mount the television on a wall, then a lot of risks from disaster damage can be avoided. The wall mount keeps the television stuck to the wall and ensures that no damage is done to the television in case of a flood or any other similar disaster.  Also, falling objects and debris as a result of an earthquake can be kept at bay, if you use a TV mount.
Best for group of viewers
If you live in Singapore and have a big family or expect many friends or relatives frequently, then a wall mount would be a great thing for you. Wall mounts help in achieving the perfect angle for viewing the television screen. Moreover, you can select the 180-degrees rotating wall mount, which you can adjust as per your need. This will ensure that every viewer has a good view of the television screen and thus, help you become a good host.
Here, are the top 4 reasons, which talk about the necessity of a TV bracket in Singapore if you live in Singapore. You should replace your old stand with a wall mount soon to be benefitted from its utility. Try us and purchase wall mount from us. We have a wide range of wall mounts with different designs and quality with superior workmanship. Moreover, we provide the best professional installation too.