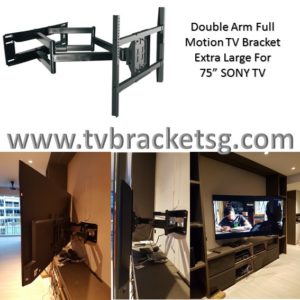 If you are fond of a minimalistic design, then mounting your television on to a wall mount might not seem to be a bad idea. It will save you floor space, especially if you live in a small home area and will help you give it a very streamlined look. Alternatively, wall mounting is perhaps one of the best ways to prevent accidental knocks as well. Plus, you also get the best viewing angles and glares are reduced from windows and light. If you are looking for the best TV bracket in Singapore, you have come to the right page.
Most people have a lot of questions about TV brackets in Singapore. The most common is whether TV brackets are universal or not. While most TV brackets are universal in shape, there are others that cater to a specific television brand. These universal TV brackets follow a compatibility standard that is set by VESA, or also known as the Video Electronics Standards Association.
What is a VESA Mounting Pattern? Are they compatible with every TV set?
The VESA mounting pattern is a set of four screw-holes that are arranged in a rectangle on the backside of your TV. The wall mount has the same corresponding holes with the same spacing. This standard is followed by all VESA-compatible television sets and the mounts are interchangeable. In today's time, most wall-mount television sets are VESA-compatible; but, you always need to check before making your final purchase.
What is the set standard size of VESA mounts? How do you measure it out?
The standard VESA measurement is defined in millimetres between the four mounting holes. The most common VESA sizes are 200×200 for 32-inches (or less) TV sets, VESA 400×400 (or less) for 60-inches TV sets, and VESA 600×400 for bigger TV sets like 70-inches or 84-inches TV sets.
The fastest and easiest way to find out the VESA size of your flat screen TV set is simply by measuring it. You will find four holes behind your television set. Measure the distance between them first horizontally and then vertically. You will immediately know the VESA size of your television set.
VESA defines the standards for all mounting interfaces like TVs or monitors. The primary advantage of this system is that it allows for low-costing installation of viewing devices into a broad range of brackets, thereby increasing ergonomic benefits and flexibility. If you opt for our services, we ensure that we have the TV brackets that fit the VESA standards. We also have some defined TV brackets that will fit certain TV brands as well. With our TV brackets, you will be able to have the best TV viewing experience, without compromising or worrying about its safety.