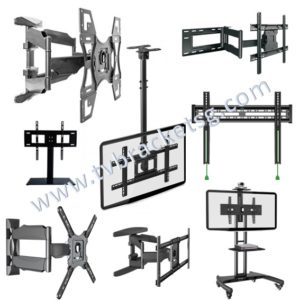 How to determine what kind of TV mount I need?
First of all, you need to check and determine the VESA-measurement of your TV set. You can do this by searching for the TV model online and taking a look at its specifications. In Singapore, TV sets sold here are usually of the VESA standards. Hence, if you purchased your TV set here, then our TV brackets are definitely suitable. We also make custom-sized mounts if the TV does not meet the VESA-standards.
What things do I need to prepare for the installation procedure?
First of all, you need to decide on the wall. The wall should be strong enough to withstand the weight of the TV set and the TV bracket. Once done, you can start installing the bracket. In most cases, the bracket comes with its set of nuts and bolts. All you need is something that can drill holes into the wall. Make sure that there are no children nearby during the installation process as it can be quite dangerous.
How much time does it take to install a TV bracket in Singapore?
In the most normal case, it will not take you more than half an hour (30 minutes) to properly set up a TV bracket in Singapore. This also includes the time required to ensure proper alignment and adjusting the TV for the best viewing experience.
How long does a TV mount last?
If you follow the proper installation procedure and do not exceed the weight limit, the TV bracket should last for a lifetime. Also, you need to make sure that you do not use the bracket in degrading conditions like sunlight, rain, etc.
What are the benefits of mounting my TV set?
There are several benefits of mounting your TV set on the wall. First of all, you will free your room that would have, otherwise, been occupied by the television. Also, the risk of your flat screen TV getting damaged is far lesser on the wall rather than on the floor level. You will have the luxury of watching your favourite movies or sports from different angles, without having to compromise with the picture quality.
How do I know if the product I'm looking for online is available?
You can check out our website to know whether the product you are specifically searching for is available in our store. Even if it runs out, all you need to do is wait for one to two weeks. We usually restock within this time gap.
Do you offer bulk purchase/order?
Currently, we do offer bulk purchase and order. But, we will soon be launching this feature. You can contact us directly at contact us page.