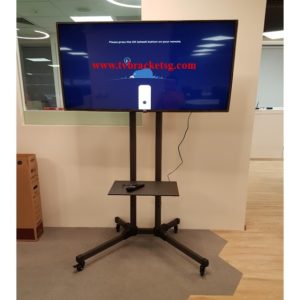 In defining a TV stand, we say it is furniture of a metallic or wooden material where you can place your TV set alongside other accessories.  You usually place your TV together with your full entertainment equipment on your TV stand. In other terms, we can define TV stands as furniture items which we use to hold up the television high above the floor. For a seated viewer, TV stands provide a comfortable viewing height.
TV stands are typically used in our residential living rooms or in our bedrooms to minimize the room's clutter. For example, a TV mobile stand in Singapore can be designed to offer more space to keep your other TV-related essentials. The essentials may include A/V receiver, channel speakers, blue-ray players, among others.
 Why Do You Need A TV Mobile Stand?
With the current technology across the globe that has rendered everything simple and easy to manage, you cannot rule out the importance of TV stands. Nowadays, most people like working from home due to different personal and collective factors, respectively. You all know how COVID-19 Pandemic has affected people's working routine. During the period, people have chosen to work from home. People who use digital TVs for their daily work will definitely need a TV stand.
Therefore a TV stand is an essential tool that we consider key in every homestead. Modern technology has brought different TV sizes, and as such, there are various TV stands. The TV mobile stand is basically designed to minimize wastage of customers who have smaller entertainment, living or bedrooms.
Like we said earlier, mobile TV stands to minimize space occupation. They are designed in such a way that they fit efficiently for small, narrow, and those other sorts of rooms. You can install other equipment in the saved space.
Another importance is the ease of relocation. Most of us live in rented houses, and we need to relocate from time to time, depending on the landlords' terms.TV stands are therefore easy to transport to your new home. Sometimes you can carry them with the TV mounted on the stand. Other items stored in the drawers of the stand will still be inside as you vacate since they are usually lockable. This even applies when you are selling your house.
It is a universal law of the thumb that the canter of the TV should be the same height as the viewers' eyes. TV stands are adjustable and provide this service much better every time the viewer changes their sitting position.
These and many more other importance should allow you to buy a TV Mobile  stand in Singapore.
What To Consider When Buying A Mobile TV Stand
The size of your television. There are different sizes of television and therefore calling for different sizes of mobile TV stands. Make sure that they are compatible with your TV size. You need to achieve this when you make sure the TV stand complies with the VESA interface standard.
Make sure the height can be adjusted. Some of the TV stands come with fixed heights. The height should be adjustable to suit the entire room allow viewers to place it at suitable angles so that they do not strain their necks and eyes.
Your interior room design. Different users have different tastes in their interior room design. Choose that TV stand that suits your interior design. We recommend the black ones, but you are at liberty to choose any colour. TV stands with built-in flat-screen TV mounts should be high on your list.
End Point
When we talk about TV Mobile Stand in Singapore, it is impossible to eliminate them from their TV bracket counterparts. In Singapore, we offer some of the most developed and user-friendly TV brackets.   Visit our site and shop durable TV brackets and TV stands with high-quality work.
When you buy from us, be sure to engage our professionals in installation. Customers usually see it simple to install the TV brackets for themselves, but somewhere midway, a problem may develop. It is not as simple as it may look. For you to enjoy, seek the services of our professionals.
You will notice the difference between your installation and theirs. For the avoidance of any doubt, it is worth noting that we are duly licensed, trusted, and registered for over six years. Our staff has experience equivalent to the years we have been operational. We also have a lively customer care that responds to your call anytime.  In case of anything just reach or call our customer care, and you will be sorted instantly.
You will get a TV bracket that is best for you and the customer care service even after installation.  See you when you visit our website to purchase TV brackets and TV stands.