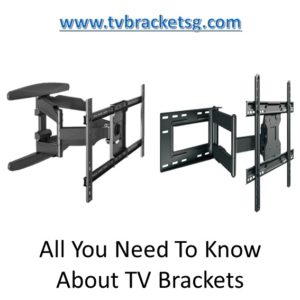 Have you been thinking of mounting your TV on the wall? That would be fantastic. It would add more beauty to your room and save you space. It would save you the cost of a TV stand. It would ensure your TV is not at eye level, and give you more viewing options. But there are many factors to consider so that you can get the best out of his great idea.
Choose the Right Type
There are different types of TV brackets in the market. The most common ones are
Fixed
Tilting
Tilting and Rotating
Ceiling
The fixed type is a low profile type. It becomes rigid once installed, and you can no longer adjust it. That is just like nailing a frame to the wall. And to install it is as easy as that as well – just hang it, and you are done.
Tilting TV bracket is also very easy to install. The TV bracket has a pivot, which makes it possible to be tilted. You can, therefore, adjust the vertical angle after installation. It can move up and down, but not side to side.
Tilting and rotating brackets or full-motion TV brackets can be adjusted both vertically and horizontally. You can move it up and down as well as side to side. It has an arm that makes it possible for you to move it more away from the wall if you so desire.
And if there is no space on your wall, you can get a ceiling bracket. This can be installed on your ceiling and can be rotated in all directions. The problem here is that the installation is complicated, and you may need a professional service.
But you don't need to worry about which one is the best for you. TV Bracket in Singapore has an excellent customer service, which will assist you in making the right choice. You can also hire them for installation.
Check Your Wall
Many homes have dry walls. If such is yours, you won't have any problem installing a TV bracket on your wall. But if your wall is lathe and plaster, then you may need further assistance. You will need to get more materials than the DIY installation kit that you might have bought, or you might simply acquire the service of a professional installer. TV Bracket in Singapore can effectively do it for you.
Determine How High
The height of your TV on the wall is significant. You must install your TV at a height that will give you a convenient viewing experience. Factors that you may consider to choose the height include:
The size of your TV
Your seats distance to the wall
Your angle of view
Your preferences
The size of your TV screen is an essential factor to consider before choosing the height at which the TV should be mounted.  First, you need to determine where you want the center of the screen to be located, then measure the height of the TV screen to calculate what the height from the ground should be.
The distance from where you will be viewing the TV to the wall is also an essential factor to consider before determining the height to mount your TV.
Your viewing angle relates to the angle in which your viewing position would be to the location of the TV. This is also very important to determine the height of your TV.
Also, your personal preference is important. After all, it is all about your comfort.
Consider the Weight of your TV
The size of your TV and the weight are different things. Some TV brackets may not be suitable for heavy TV. Therefore, you must check the specification of your bracket to make sure it is compatible with your TV before you buy it. But to be safe, you should buy from professionals. Tv Bracket in Singapore knows everything about TV breakers and installation. If you buy from them, you can be sure that you will get precisely what is suitable for your TV.
The Final Word
Hanging your TV on the wall might look like hanging a frame on your wall, and indeed, you should be able to do it yourself. But many a time, it is not as simple as that. Many people run into trouble when installing their TV brackets, and some get confused. That is why it is advisable to seek the service of professionals to install your TV bracket. You will always see the difference between the job done by a professional and the one done yourself.  But when you want to hire, make sure you employ the service of people with experience and license to operate. TV Bracket in Singapore is duly licensed to operate. It also has skilled staff and has been in the business of installing TV brackets for over six years. Hence, it is experienced enough to give you that professional touch you so much desire.
If you also buy your TV bracket from them, you can be sure that you will get the TV breaker that is best for you. And with their excellent customer service and after-sale service, this company will always be there for you even after installation.