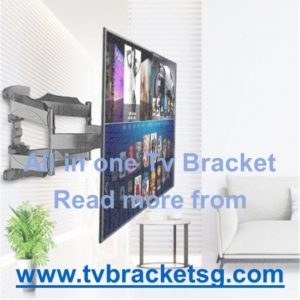 Smart solutions for everyday life.
The goal is to bring maximum comfort to your family, allowing you to keep under control of your home entertainment devices, with the guarantee of being able to relax and enjoy time together. The revolution of technology does this by creating smart technology, intending to make life less complicated.
The construction of One for All design reliable and versatile TV bracket, are used the most advanced technology, to ensure that your TV is positioned in the home in the best way. Our wall mounts ensure the TV at the right angle for optimal viewing, so you can watch your favourite programs with your family in maximum comfort.
The Maximum From The Available Space
To create the One for All the focus is mainly on developing products that ensure maximum home comfort. We are committed to proposing simple solutions by introducing truly universal significant innovations. The tv bracket gives you the freedom and flexibility to place TVs up to 84 "in the perfect position in the room. They can tilt, approach or rotate up to 180 ° horizontally and 20 ° vertically, with simplicity and precision. They are ideal for corners, avoid any uncomfortable position or any possible reflection.
A Perfect Complement To The Furniture
Whether you want to create a home cinema in the living room or place an additional TV in the corner of the kitchen, our design teams have created optimal, at the same time modern, functional and compatible supports for all TV brands. Our best designers have used durable materials, with an ultra-thin design, dual-arm technology, and a very simple click and release system. All in one tv bracket is available to assist and at the same time learn from our users. We truly believe that the best home comfort is not something that customers and users have to derive from themselves, but something that they have to experience directly.
Patented Dutch Design
Thanks to an innovative design made in the Netherlands for One for All, our experts produce high quality supports with a robust design and a lifetime guarantee for every type of TV, LED, plasma or LCD. The One for All wall mounts are carefully tested to ensure that your TV is securely fixed to the wall, with guaranteed protection that eliminates every thought.
Remote Control For One For All Tv Bracket 
The universal remote with extraordinary technology which is the basis of all our exciting offers. One for All tv bracket is much more than a simple remote control for controlling a TV bracket. It's not the number of codes included in the devices that makes the remote control more reliable, but how much these codes are related to specific markets and usage habits. This is what makes Universal Electronics' database unique in the industry. With over a million universal remotes equipped with Universal Electronics technology sold every week, the Universal Electronics code database is the largest and most complete in the world. It is, therefore, no coincidence that most manufacturers of consumer electronics hardware and major subscription companies use the all in one TV bracket technology for their devices.
Best In The Rank Of Tv Bracket
The all in one tv bracket lide line of patented technologies and infrared control software database has been adopted by many companies ranked among the best, consumer electronic products, subscription issuers, and IT products use wireless control products through suppliers and retailers for an all in one TV bracket that is excellent in its daily use by any family member or customer who wants to use the product.
The stirrups often inform approximately the compatibility starting from the inclination. We find such things: 32-inch TV wall bracket, 50-inch tilting wall bracket, 60-inch screen ceiling mount, and so on. However, the information regarding inclination could also be completely ignored. The first and main element to check is which is the all in one bracket to be sure that we do not need extra accessories for different modes or to give different commands to the all in one tv bracket.
For some, buying a TV stand may seem complicated, but there are very few factors to consider. Practically all TVs, but the same goes for computer monitors, have removable support and the possibility of being fixed to a wall or ceiling support, which is why among the many choices the best and most comfortable for many customers are all in one tv brackets in Singapore.