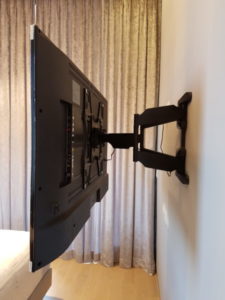 The Design Flow
One of the other advantages of hanging your TV is the aesthetic superiority by doing so. It's been my personal experience and being in the business for so long, I feel that a TV hung on wall or the ceiling can make your hall or bedroom look orderly and neat. The fact that you'll place your TV just in front of the furniture you will be lying on is the reason the conventional method of placing TV becomes un-aesthetic. Suppose you want to keep a TV in your bedroom, where would you be most likely keeping your TV? There will be no stars in guessing that the TV will be placed in front of the bed! But this is exactly where the problem arises. Your bedroom's aesthetic design flow, considering you built it that way, will be interrupted by TV table or Entertainment centre meant for the TV. Most aesthetically designed bedrooms usually have chest of drawers in front of the bed that adds more personalized feel to your bedroom. A TV on table will surely replace this chest of drawers or a dressing table also known as lowboy.
TV Mount or Bracket keeps the design flow retained
When you use a mount or bracket, you will retain the design language and decoration of your bedroom or hall without having to change anything. Wall mounts and brackets do not any space but are in fact hidden behind the TV. Of course, A Full motion Mount will protrude a little but not much. Very often the paint or wall paper on the wall is of special types which you wouldn't want to be covered by a big TV shelf.  Using a TV bracket will let you flaunt the beautiful wall of your hall.
Even if you have a shelf or a TV table, you could use it for keeping other things on it rather than keeping a big TV with no place left for even a book. The options of TV Wall Mounts in Singapore from TVBracketsSG is comprehensive that is why we always say, We have something for everyone.
Ceiling Mounts for Those Who Want Their TVs to be Placed Away From Walls
Is the wall in your Hall, Bedroom, or kitchen too far from where you want to watch TV? IF that is the case so, you should consider Ceiling Mounts from TVBracketsSG. Ceiling mounts give you the freedom to hang your TV anywhere in the area. Ceiling mounts are typically favourites for Kitchen application as kitchen walls are already occupied by cabinets moreover the one doesn't stand or sit at fixed location in kitchen, you are always mobile. Which gives the ceiling mounts their USP. We've already discussed ceiling mounts and their features in our earlier posts.