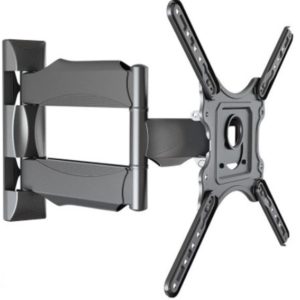 What are the advantages of TV Brackets and Mount over conventional TV stands and shelves?
Modern Television sets are no longer bulky and heavy instead they come so light and thin these days that you can hold a medium size 32" LED panel with a one hand! And this is the best thing about TV brackets in Singapore, they utilize this attribute of modern TVs very cleverly. Since TVs are light now, it is now possible to hang them from wall or ceiling just as you want.
Earlier, there had to be some portion of area in your room dedicated to TV stands and shelves for bulky TVs. This not only occupied space in your hall or kitchen but would sometimes disturb the décor of the room. With the introduction of compact, cost effective and user friendly TV Brackets and Mounts all these issues have been sorted out. Now simply hang your TV on the wall, which is mostly left blank. The overall result is that you have cleared some space from your room for other stuff yet at the same time a TV screen on wall looks very appealing and flush. Wires and cables can be routed to walls further uncluttering the room. Some TV Mounts at TVBracketsSG, such as the Gas Strut Mount, are equipped with cable management system.
Why choose TVBracketsSG?
Installing TV Brackets and Mounts requires a certain degree of expertise. Firstly because a TV brackets installed incorrectly could damage your TV and in very unfortunate cases could also cause injury if it falls on children for instance. Secondly, installing a TV bracket requires modifications to the wall or the ceiling in form of drilling etc… Therefore it has to be a one attempt job otherwise you might up with a wall with many holes!
At TVBracketsSG we ensure top notch service and workmanship. We started out in the year 2012 and since then we have expanded our team with experience technicians to serve all over Singapore. We've done projects in multiple locations including Homes, Offices, and Businesses/Commercial applications. We have a wide variety of products in multiple sizes including the Simple wall brackets, Full motions and Tilting Wall mounts, Professional grade Gas Strut Mounts to the conventional and stylish TV stands. Our products are made from high quality materials such as high grade SPCC steel and meet all standards. All our TV mounts and brackets are VESA compliant.
Over the years we've built good relations with our customers who have praised our products and are happy with our service. By dealing with TVBracketsSG, you can be assured of competitive prices for our products and service. To read customer testimonials, log on to our website https://www.tvbracketsg.com