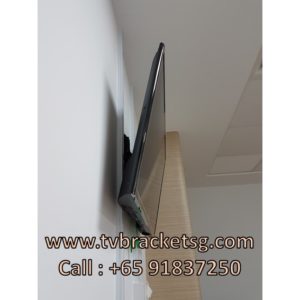 Despite the huge uptake of TV brackets in Singapore, most people are still very reluctant when it comes to the use of the TV Brackets in Singapore. There are plenty of benefits to mount your TV. Surprisingly, there is a heated debate on the pros and the cons of having a mounted TV. Some people believe that mounting the TV is too risky and is a difficult process. Well, the fear of having their brand new flat screen TV dangling from the walls scares and squeezes life out of them.
But what are the benefit of the TV brackets, why not just use the TV stands? Well, it is a valid option, but before getting there, you should know that installing a Television on the wall isn't painstaking labor, neither complicated and at TVBracketSG we'll show you why.
Flat screen TVs should be Mounted
What do you mean that flat screen TV are supposed to be mounted? Well, if you look at the back of your cherished TV set, you will notice that it has the compatible VESA (four mounting holes) which allow to wall mount your TV to be hanging from the walls. This gives you optimal viewing options.
Accessibility
Though the hanging option seems to be out of reach, for many people, there is the essence of hanging the TV on the walls. Basically, that is the reason why people hang the TV on the wall. Imagine this, living in a home with kids, and pets and your precious TV is within reach, probably, they will knock it down. Therefore, the only valid reason to protect it is by having it hanging on the wall.
Presents a good home cinema
Calling friends home to watch a movie or sports in the past, you would have the furniture arranged in a particular manner so that everyone can get a clear view. Why go to so much hassle when you can only have your TV mounted where everyone can get a clear view. Everyone gets ample opportunity to view everything and in perfect details. The TV brackets serves as a central piece for your new home cinema view.
At TvBracketSG we believe that having the TV brackets is the best option. With some premium quality TV wall mounts and accessories, you can be able to subvert the looks in your home from the traditional touch to a modern classy look.