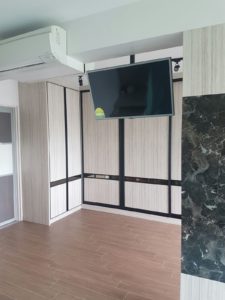 When you want to mount your television on the wall and the living room is not spacious enough, do not worry on how you will be or what you shall do in order to ensure you mount your television on the wall.  However, to have your television set mounted at a comfortable and decorative manner such that you can be able to have a comfortable and luxurious view from any angle, we bring you the adjustable TV ceiling mount anywhere and wherever you are in Singapore.
The Adjustable ceiling TV mount is one of the preferred living room assets in Singapore as it is loved and procured by many people. Though, before procuring one for your place to enhance the aesthetic value of your living room but most of all to comfortably position your television for a deluxe viewing angle, there are some benefits that come with these types of TV mounts once you buy them and therefore it will be to your advantage if you make yourself aware about them.
To begin with, the adjustable TV ceiling mount is easy to install and also designed to beautifully fit almost all the house architectures that are in Singapore and also once installed it does not leave cracks and neither does it damage the ceiling .
Additionally, they are found in different types and makes here in Singapore of which some are manually adjusted and others are fitted with electrically motorized flip down thus pitched roof ceiling mounts which can bear as from 23'' to 55'' screen sizes and are remote controlled. To add on that, despite the fact that the adjustable ceiling mounts TV brackets have adjustable joint to position your television at any angle for a comfortable view, their heights can also be adjusted to your suit and preferences. This helps to reduce the neck and back strain that one can experience when viewing from a fixed angle and uncomfortable position.
Furthermore, apart from this type of TV mount providing a comfortable and firm television suspension, it also beautifies and minimizes the space that is in the living room allowing you to fix other living room decors that match hand in hand with the same.
After the purchase of this type of TV bracket in Singapore we also offer our professional service at reasonable cost however at sometimes it is dependent on your requirements.