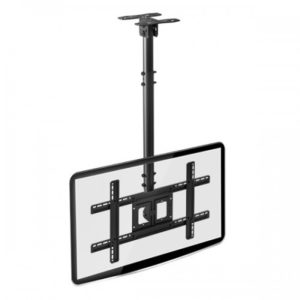 In today's world, we have come to depend a lot upon visual sources for both information and entertainment. The television is one of these major sources of both information and entertainment.  With movies, television series, news, music and cartoons, the television has captured the hearts and mind of a lot of people, regardless of gender, age or orientation. However, many have started linking the watching of television with ailments such as back aches, joint pains and eye complications to the watching on television. This is mostly due to the improper posture and positioning whenever television is watched. Ergonomists have however tried to tackle the problem by bringing about television brackets that can be adjustable so as to suit the needs of the large television viewing spectrum.
The adjustable TV ceiling mount bracket is a special television mount in that it is connected from the ceiling. What makes ceiling mounts popular is that they save up on space and are able to make the screen viewable from a lot of angles and from a great distance. They are mostly used in schools, movie theatres, boardrooms for presentations, gaming parlours among other establishments that require a fairly large number of people viewing the screen at the same time.
The adjustable TV ceiling mount bracket in Singapore comes with the ability to tilt the screen so that it can be viewed from multiple angles. This helps ease the strain on the neck especially when trying to view a screen suspended above you.  You can also change its height so as to change increase the number of people viewing that particular screen at a particular time. This is especially useful when making presentations for a larger number of people than expected. Most of these ceiling mounts come with a swivel option meaning that you can rotate your screen by up to three hundred and sixty degrees in any direction. This is helpful whenever you find that the original setup of the screen was not in the desired direction.
The mount is sturdy and can hold up to 110 lbs in weight making them suitable for a large number of screens on the market. This means that you don't necessarily have to change your screen when you buy one. This is also aided by the fact that it comes with a universal bracket meaning it can hold a large range of television set widths.
Cable management holes in the bracket ensure that you can easily handle cables hence making the whole setup look neat and organized.