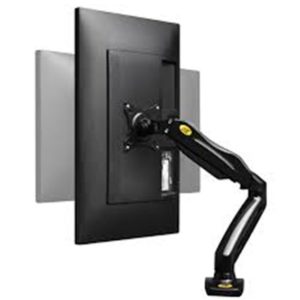 With advances in technology, more and more people are using computers both at home and at work. The desktop has been personalized once again. Visual display units such as monitors are becoming an integral part of a lot of aspects of the workspace. With more and more people spending their time in front of the monitor, the issue of comfort and safety has to be addressed. This is because spending long hours in front of a screen especially at work is being linked to neck and back pains as well as developing eye complications due to wrong angle of viewing the monitor. Ergonomic engineers have tried coming up with solutions to reduce these effects, and have done so by creating desktop monitor stands.
The single tilt adjustable desktop stand is a device used to hold your monitor in place as you work on your desk. It is ergonomically designed to reduce strain on your body that would normally occur when you use the monitor without a stand. This is done by including features such as tilt and height adjustability.
The adjustable desk stand comes with a tilt feature that allows you to tilt it up to 30° up or down. this is to prevent the user from having to strain their neck in order to view what is on the monitor well.  This stand also comes with a swivel feature that allows you to show the person sitting opposite you what you are working on without them having to come over to your side.
You are also able to create ergonomic space using different angles and tilts hence giving you limitless options on how to position your stuff around the desktop. You are also able to adjust the height of the display by up to 9.8". This makes it convenient for people of different heights. It also adds to your options of viewing angles.
These stands come with load capacities of up to 14.3lbs hence can hold light monitors. They also support a wide range of monitor sizes, from 13" to 27" wide making them compatible with a lot of modern monitors from a lot of different companies. They have a wide v-shaped heavy duty base that is capable of supporting the monitor at any tilt and of various weights hence reducing the risk of the computer monitor tipping over your desk. The high quality steel aluminum alloy material used to make them ensures that they do not snap while in use hence making them a suitable companion and gives them a cool aesthetic finish.
You can also find new kinds today like the gas strut tv bracket in Singapore. This is another flexible type of mount.