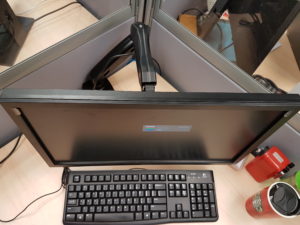 Ever felt like you got a backache after seating for long hours? Or felt like working while standing? These are desires which can be fulfilled by the adjustable monitor desk stands.  This is because of the work culture which can harm our physical health if not taken care of properly. Therefore the adjustable stand which can be tilted or adjusted to your level takes care of the issue.  Therefore spending many hours in front of the screen cannot strain your back/neck as the adjustments could have served you better. These stands are designed to make working with the laptops and office equipments fun and comfortable.
These stands come in different sizes and varieties, as people have their own tastes. They have an adjustable height of 2.3inches to 7.5inches; these adjustable heights while on top of the desk can work better for those with back complications and in leveling the monitor to your size and comfort.
Some do come in wide to thin but stable designs, like the ones with wide bases and can tilt up to 35⁰ degrees, which means whatever the position that you are at you can easily work without worrying if the monitor can fall.
They also serve a good purpose at homes while watching your movie and you are sleeping on the upper deck bed, just tilt it up and watch from the your warm bed. Not letting go of the Fur mat's comfort, also the tilt feature works better as one can easily lie down there while watching comfortably.
There are also many benefits that come along with using the adjustable monitor desk stands; one of them being saving a lot of space and even helping one work without clutter as everything is in place and through adjustments, it becomes easier to maximize space underneath the stand.
The cables also in most stands cannot be even seen, this is because the stands have an inbuilt cable route which protects them from any view or damage and their bases are non-skid; therefore the workspace remains clean from the unnecessary scratches from the base.
The maximum weight the adjustable monitor desk stands can hold range between 30pounds to 100 pounds, hence even that large TVs of yours can be accommodated too.
Lastly these stands help a lot when it comes to relieving your eyes and saving the week's massage pennies for some other things as you would have had a fun filled day with your adjustable monitor desk stand.
Contact us If you are looking for other types of TV Bracket in Singapore.