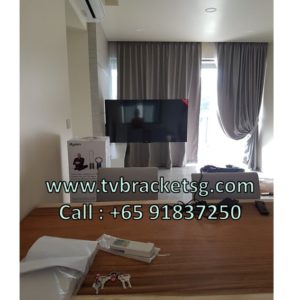 If you buy a flat screen TV, it will be necessary to have it mounted on the wall for its safety and perfect viewing experience. Putting the television on a TV stand or in a cabinet is the traditional way to place your TV. Using TV bracket Singapore is the fashionable way that will ensure easy adjustment of the positioning and public display of the TV.
Placing the TV on a stand can be convenient and easy for you to reposition and move the TV around, it can as well be extremely risky. As people move around the room, they can accidentally bump the television. In addition, food and drinks could spill on the television set accidentally. On the other hand, as adults and children would touch the screen of the TV out of curiosity, finger smudges became very high-flying.
The option then was to enclose the TV in a cabinet to alleviate all these likely dangers. This way, the television is secured but repositioning the TV for better viewing became difficult. However, people in Singapore began to consider the likelihood of mounting their television sets on the wall using TV bracket Singapore to allow for a kind of viewing experience that can be compared to that of a cinema.
It therefore became more interesting to mount the screens on TV wall bracket in Singapore as the flat panel televisions are lighter and bigger. TV brackets Singapore provides security and safety as you can mount them higher up the wall, far away from where it can easily be damaged. It is also prevented from theft and any kind of vandalism.
TV bracket in Singapore guarantees modernistic appearance, added room space and cinematic look. However, the immovable TV brackets Singapore lacked mobility and flexibility. These particular issues were corrected in other styles and models of TV wall brackets in Singapore, like the articulating and tilt TV brackets. Moreover, TV brackets from TVBracketsSG are available in different colors and designs to go well with the ambiance of your house.
TVBracketSG is great because you can buy TV wall mount online from them without leaving the comfort of your room. All you need to do is to visit https://www.tvbracketsg.com/ for the type of TV bracket Singapore you want. TVBracketSG online shop can offer you free or minimal delivery fees, based on the closeness of their outlets to where you reside. With the online service of TVBracketSG, you are no longer limited to what is on stock because you have the opportunity of accessing all types of models and brands from their site.
When it comes to packaging your items, TVBracketSG is careful, and will make sure your products are delivered intact.
Are you in need of a TV bracket Singapore without leaving the comfort of your home? Just go to https://www.tvbracketsg.com/contact-us/ or Call / SMS / Whatsapp : +65 9183 7250 for further information concerning our products and services.
Moreover, you send an email to: enquiry.tvbracketsg@gmail.com for further enquiry about our product line-ups.