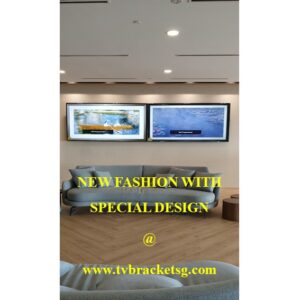 The undercabinet mount is ideal in a situation where there is little or no space on the walls or when you desire to have a television in your kitchen or some under space under a cabinet. The mount is made of solid material to better support your TV while giving your space a facelift as with the undercabinet mount, and your TV has the appearance of floating.
At TVBracketSG, our mount makes your environment a safer place to be due to the wires being tucked away. It reduces the occurrence of accidents such as tripping over cables, electric shock and does away with the cluttered appearance wires tend to give. The undercabinet mount properly utilizes space while ensuring the comfort of viewers.
With our under cabinet mount, comfort is guaranteed as it can be swiveled to your desired position. This will reduce the incidence of strain on your back, neck, and reflections from the TV screen.  However, this under cabinet mount is made from sturdy material, with excellent coatings, and it is a perfect fit for small TV sets.
Our under cabinet TV mount is a great space saver and organizer for your home and workspace. The mount keeps your display out of sight from the reach of children until you want it. You can fit it under a cabinet to make viewing your TV display more convenient and more comfortable. Our under cabinet mount swiveling feature makes picking the perfect position even more easier.
Our mount is retractable and can be folded flat against the cabinet. It has a 90° tilt and can also be extended downwards. It is suitable for 13″ to 27″ LCD TV, LED, Monitor, flat screens, and other TV sets. More importantly, it complies with VESA regulations of 100mm by 100mm.
Special Features:
It's is made with quality material
It perfectly holds and fit your Tv screen
It meets the required standard
It's the best under cabinet mount in the market
You can't help but embrace the incredible opportunities buyers are leveraging with the superior services of TVBracketSG. You can purchase your undercabinet mount from this brand and get a great reward for value.
         Quality products in our store
Every one of our under cabinet mounts has been designed with quality and solid materials. Our under cabinet mounts are of good quality, durable and safe for both residential use. With our mounts, you are able to mount your TV to your comfortable viewing angle and with a classic look.
         Excellent delivery
We also offer speedy and excellent delivery services for our products. We have well trained professional drivers and teams to deliver the products safely and in one piece as well as install the under cabinet mount safely and excellently.
         Experienced technicians
We have a team of well experienced, reliable, professional, and locally-based people understand who know exactly their work and are capable and trained to attend to your needs.
         Affordable prices
Our under cabinet mounts are valuable products but with a reasonable amount. At TVBracketSG, we offer affordably priced products and services and we ensure that the products and services we offer are worth the amount we charge you.
         Swift to customer needs
We have a team of well experienced, reliable, professional, and locally-based people that are ready to offer quality and top customers and meet our client's requirements and expectations. We are customer-friendly and are able to deliver quality and professional workmanship as well as giving professional recommendations and advice to our clients on selecting the most suitable under cabinet mount.
         Other special packages to our customers
We also offer special packages to our loyal and potential customers. We offer customized professional recommendations and installation services for our clients. For more details, check TVBracketSG – The TV Bracket in Singapore.
Conclusion
Your home should receive the best treat as you do to your body. So, the same way you search for the best health service provider, you shouldn't relent on the brand that supplies your undercabinet mount.
Interestingly, TVBracketSG offers you a range of sizes, colors, and shapes at a price that won't eat deep into your budget. Never barter quality for numbers. After all, every good thing comes at a price.