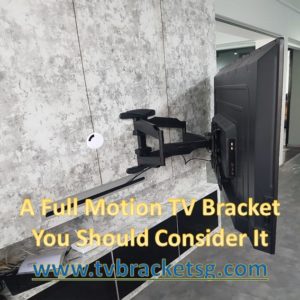 A TV bracket is now becoming a handy device that you can use to position your TV to enhance viewing while giving your home a stylish look. There are several ways to mount your TV on your walls once you have purchased the best TV bracket in Singapore. One of the most common ways to mount your TV which most people prefer to use is a full motion TV bracket. It is very popular, especially for people who do not have time to sit in a specific place in the house to watch TV. Full motion means the ability to tilt downwards, to swivel left and right, to move up and down and away from the wall.
Advantages of a full motion TV bracket
You can mount on walls that are not straight
A full motion TV bracket allows you to mount your TV on uneven walls.  You are therefore not limited to where you can install it, and you can even mount it in corners in any room, unlike the other brackets where the walls have to be straight.
You can watch your TV at any angle
A full motion TV bracket allows you to change the position of your TV to your convenience. You can tilt it, rotate it at different angles to enjoy viewership.
You can install away from the wall
A full motion TV wall bracket can be installed at least one meter away from the wall which is very convenient in rooms with a refraction of the sun's rays. Other TV brackets that have to be installed against walls can be interrupted by the bouncing back of the sun's rays at certain times of the day.
You can mount above fireplace
A full motion TV bracket has come as a relief in most households since in many homes, the space above the fireplace is the only spot big enough to accommodate a large flat screen.
Once you have seen the advantages of the having a full motion TV bracket in your home, before you purchase the best TV bracket in Singapore, there are a few things you need to consider to get the best fit for your home.
How much can it move vertically
Some full-motion mounts can move vertically up to only 11 inches; others can go up to 16 and others up to 29 inches. Make sure you consider the best fit for your home because a greater vertical distance means that the TV can go higher on the wall. This is important, especially if you are considering mounting over a fireplace.
The weight of your TV is essential as some mounts are limited on the weight that they can support. For safety purposes and to be able to tilt your TV without fear of dropping it, consider the weight before purchasing.
Size is one of the most important and obvious consideration since some mounts will handle flat screen TV's of only 98 inches, some 70 and others 50. Although the curved TV fad seems to be coming to an end, other TV mounts will not fit curved TV's; therefore, you need to consider the curve of your TV.
Conclusion
Full motion TV bracket comes with a lot of conveniences allowing you to mount your flat screen television high on a wall, pull down to eye level and return it to its original position. You can also watch your TV from any room in your house. For example, if you are in the kitchen and need to watch a TV mounted in the living area, you only need to tilt the television
Once you have bought your TV bracket in Singapore and are ready to install, please contact us at our page on,  https://www.tvbracketsg.com/blog/ for the best installation services.
Although mounting your TV is quite a simple task which you perform without the help of an expert, the problem comes when you encounter difficulties in the process of mounting. Mounting can be quite hectic and might cost you more because of the damages you might cause on your TV and even on your walls.  Our TV brackets are of high quality, and the installation services that we offer is one of the best.
We are aware of freelancers who also do the installation, and we are always cautioning our clients against using such kind of services because of the dangers that come with it.  With no office to operate from, no way to check their experience and qualification and no guarantee of finding them once the work they have completed the work, then the risks are too much no matter how much they charge to install.  So click on our page, and we guarantee you the best.