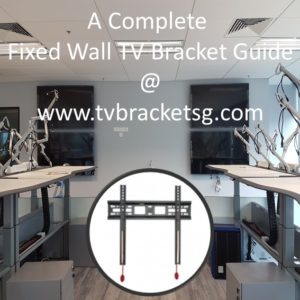 Mounted TV is very popular these days and became a trend. Having a thin & lightweight television is recommended for people who love to save spaces since you can mount the TV on the wall directly. But have you ever thought about the right TV mount for your TV? This article will give you information about everything you need to know about installing a TV bracket Singapore.
The Right Mount for a Television
To know which amount is appropriate for your TV, know first if what would be the type of movement you would like your television to have. If you wish to mount your television in a stable position or the fixed one, you can do so. Either fixed or motion kind of mount, it doesn't matter as long you are comfortable with it. Second, you need to double check and be sure that the mount is appropriate for the size & weight of your television.
If you already have a new television with you and planning to mount it on the wall, you can trust TV bracket Singapore Company as it has numerous trusted reviews and experience.
Fixed Mount or Motion Mount
Choosing which kind of mount you prefer for your TV is not a big deal. It is okay to choose from the two as long as it fits your references, the audiences, and the layout of the room.
Fixed TV Mounts – this kind of mount is saying it all by its name. It holds the television in a specific position. And this TV mount is very popular among many other types of TV mounts. Additionally, another good thing about this TV mount is that it holds the TV as near to a wall.
Tilting TV Mounts – this type of mount lets the television placed on a higher level from your position when you are watching TV so that you can see the screen better and fuller.
Full Motion TV Mounts – this type of TV mount allows your television to turn whichever direction the viewer wishes. It is considered as the most flexible mount. You can move it upwards, downwards, and both direction sideward.
Final Few Words
If you are still confused about the type of mount for your television, don't waste your time thinking about it over and over again. There are TV bracket installation companies that can help you in finding and choosing the right TV mount for your television. And one of the most trusted company when it comes to this matter is the TV bracket Singapore Company. They have well-trained experts & professionals that will not just help you find and choose the right mount for your tv but also guide you in every do's and don'ts. Plus, they have the cheapest deals and packages too!