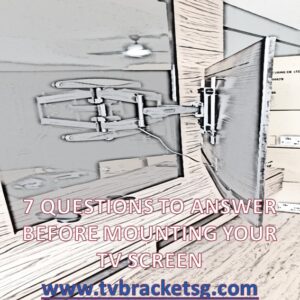 Setting up your TV screen on the wall sounds like a good idea as it creates more space, gives a more classic and better view, and keep it out of the reach of children and danger. However, before beginning the process, you have to plan and answer some important questions about mounting your screen. Here are seven important questions and answers to note for a smooth mounting process.
Can your wall hold the mount?
The first and important question to put in mind before mounting your TV screen is whether or not your wall can hold the mount. You will find the latest designs of televisions quite heavier than your largest framed pieces, and as such, choosing a good location should be first on your mind. The location you select will need studs to hold the screws.
You need to use a stud finder to locate the studs in your wall to help hang the TV screen for better placement. Don't have studs? Select another location that has studs exactly where you need it.
Where to mount your screen?
We live in a time where TV screens are placed in almost every room in the house. Now, deciding whether to mount or leave it on its stand is solely your preference. Well, before mounting, there are some factors to consider before mounting—factors like viewing distance, viewing angle, and others.
Before mounting, you should calculate the viewing distance by taking your TV's size and divide it .55. It is always best to calculate the viewing distance before mounting so that you don't have to dismantle over and over again. Another thing to consider is the viewing angle; if you like to adjust your screen depending on where you sit, you should go for an adjustable mount.
Is my TV compatible with my preferable wall mount?
Another question to answer before mounting your TV screen is to be sure that your television is compatible with your mounting choice. TVs like Samsung products are usually VESA compliant and compatible with any wall mount that is also VESA compliant. Several wall mounts are on our page, and the best thing is that whichever wall mount you purchase from us comes with all the screws, washers, and spacers for installation. Therefore, be sure that you select the right mount that is compatible with your television.
Are my tools complete for installation?
Having answered the previous questions of compatibility, where to mount, and the next question to go for is whether all your tools are complete for installation. Before mounting, be sure you have all the tools needed to mount your TV screen on your wall. Here are some important tools to crosscheck before mounting; screwdriver, stud finder, drill, and a drill bit that is the same size as the mount screws. However, if you don't have these tools, you can either invest in them by purchasing or reach out to our professionals.
Are your ports easily- reached?
Before mounting the mount, check to see where your television ports are located. If your television ports are located at the back of the TV, then you should go for a wall mount that can telescope outward; this will give you better access to the back of your television. It is also very important to check the port's location, especially for people who would like to add new devices to your television. I'm sure you wouldn't want to un-mount your TV every time to gain access.
How high do you want your screen?
Height is usually the most crucial thing to consider before mounting your TV screen; you have to first think about your room and how high enough you want to view your screen. So, decide where you want to mount it and your favorite angle you wish to mount it to get a better view.
Do you want it above your fireplace?
Before mounting, you should know that mounting your TV above your fireplace is not a very good idea. So, just in case you are considering mounting your screen above your fireplace, which is not a good idea.
Where Will You Get the Best TV Wall Mount?
Now that you can confidently answer these crucial questions, it's time to go for the best item. Make no mistake when you want to mount the best TV wall mount in Singapore. There is no place like www.tvbracketsg.com. Contact them today for the top products and service.