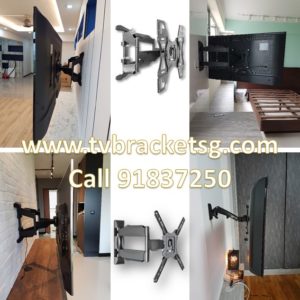 With beautiful homes in Singapore, the idea of putting up a TV bracket might seem perfect but stop for a second and figure out the spot which is perfect for it. You do not want to install it in a wrong place and then keep spending money in reinstalling it.
We have come up with an easy guide which locates the 7 best places where you can install a TV bracket in your home:
In the bedroom: A lot of us do not have time enough to watch TV. To enjoy your TV watching experience to the fullest, after mounting it, we suggest that you put it up in your master bedroom where you can cozily lie down on the bed and go to sleep while watching your favourite movie or series.
Centre of the wall: In whichever room you might mount your TV, the best thing is to place it in the center of the wall as this gives access to the TV from all opposite corners of the room.
The basement plan: If you have a clean and planned basement at your home, you should definitely think about putting your TV bracket there. It has several benefits. You will be able to watch your TV in peace because basements are usually quiet. You can also enjoy sports matches or binge-watching movies in the basement without disturbing the rest of the house. Most importantly, your basement looks like a furnished room.
A little high up: place the TV higher to get it out of the reach of children
Get angles right: mounting the TV at a perfect angle is important to avoid straining your back and neck.
Not far away: Mounting your TV on the far end of a wall might not give you a good view and mounting it too close to your seat will strain your eyes. So think about the right distance.
Not too much light: Always mount your TV on the wall which is not flooded with sunlight or with any other light source. This will give you a clear view of the screen and a long life for the TV.
Appropriate installing of your TV consists of half the enjoyment of watching it. You might, therefore, consider shifting your furniture or the setting a bit, if necessary. This will not only make your room tidier but will also leave space for more things.