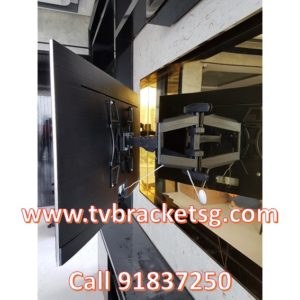 With the growing trend of fancy homes and interiors, there is a demand for classy and minimalistic things that can be put up inside our homes. TV brackets come under this category because of their hassle-free installation and sleek look. The good thing about TV brackets is that they can be placed anywhere, both indoors and outdoors. Installing one just needs the support of a wall. Whether it is in an open air restaurant or your quiet garden area, you can install a TV bracket that matches the aesthetics of your space.
You will be spoilt for choices with many kinds of TV brackets in Singapore. Here are 6 small tips to make it easier for you to install a TV bracket outdoors:
Opting for a full motion TV bracket is what we suggest for outdoors, as you might need to manipulate its viewing angles. Also choose a bracket that suits your larger outdoor space. This will make your surroundings look better.
Check for strong TV brackets, as the outdoor space might be windy and you require a strong hold on your TV. This will prevent your TV from falling off in bad weather. Never place your TV bracket over the fireplace.
Always be careful in where you place your TV. The TV is an electrical device and should never be placed directly under the sun. Even if it comes in the way of sunlight, make sure you protect it with a screen at the back or at the sides.
Avoid crowding the place with furniture or extra items as this might block your view. Keep the TV at a comfortable distance because keeping it too close might end up straining your eyes. Judging the height of the placement of the TV bracket is also important to avoid back strain or cramps.
Placing a TV on the bracket can be done in a few quick and easy steps but even a single mistake can make it all very confusing. For people who do not feel confident doing it themselves, we will advise you to call for a professional.
Use a measuring tape before drilling the holes into the wall and remember to hide the wires and cords in the wall or stick a wire channel which allows you to hide them.
Do not forget however, to read the installation guide. We hope you have a safe and easy installing experience.