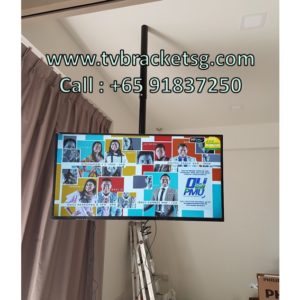 Those heavy TV's and the plasma TV is so last season. With a beautiful home in Singapore, who would not want a slim TV on the wall that compliments the house? This also seems very logical because it just not just about the appearance. Mounting your TV bracket in Singapore on the wall also leaves a lot of room in your house for you to move around.
The 6 common problems with mounting TVs
A lot of people find it quite intimidating because of some common problems that they face. But we will make it a cakewalk for you. Check out the common issues people have when they mount their TVs so that you can avoid them in your case:
A lot of people buy the TV bracket and then realize that they cannot move it around as much as they would like it to. This is why, you should check the various types of TV brackets beforehand, depending on their moveability.
Some people end up making a lot of holes in the wall when they want to mount their TV. You should first screw the brackets and then try to hang the wall plate from the brackets so that the whole mount is fitted to the TV in one go.
While mounting the TV, people often make the mistake of lying the TV face down. And this has resulted in damaging the whole TV. So, when you are in the middle of the mounting process, make sure that you place your TV in a vertical position because TVs are designed to support their weight in that way.
You are most likely to have issues with selecting the perfect place to mount your TV. A few things should be kept in mind, like not mounting it on top of the fireplace or on a wall that receives direct sunlight. This will prevent the TV from getting excessively warm.
Some of us end up buying brackets that are not compatible with the TV so it is important that we choose both in tandem with each other.
People have issues with wires sticking all out of the wall and spoiling the beauty of the mount. This is why the wires should be hidden behind when you are mounting the TV.
These are some problems that you might face while mounting the TV bracket but you do not have to handle them on your own. We provide top class TV bracket installation service in Singapore at the best prices. So feel free to reach out to us.