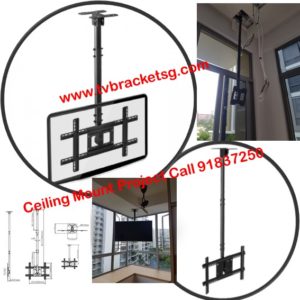 TV bracket Singapore Installation depends on experience and professionalism because there are different walls and different ways of installation. On the other hand, there are many similar TV brackets in Singapore markets but they are different as far as quality and functionality is concerned. As a result, only a professional TV mounting company understands all these facts.
The good news I have for you is that there is a TV wall bracket Singapore Company that will take care of all your TV mounting needs. TV Bracket SG provides durable TV brackets with excellent installation service in Singapore.
When it comes to TV wall bracket mounting in Singapore, there are some Frequently Asked Questions (FAQs) and answers you must understand in order to have a deep knowledge of TV wall mount Singapore process.
TV Bracket Singapore Frequently Asked Questions
Question 1
 How Do I know the type of TV Bracket I need for my television installation?
The type of TV wall bracket Singapore you need for the effective installation of your television will depend on VESA Mount Compatibility. On the other hand, take the measurement of the TV mounting hole dimensions manually from the top to bottom and from left to right.
Interestingly, televisions on the Singapore market are normally of VESA standards. Therefore, TV mounts from TV Brackets SG are suitable for you if you buy your television in Singapore. Finally, confirm the weight capacity from the specifications that came with the television or check online.
Question 2
 What is meant by VESA?
VESA is the abbreviation for Video Electronics Standards Association. This is the association of video electronics industry professionals. VESA is established for the purpose of reviewing proposals and build up standards to promote uniformity in the video electronics industry.
Question 3
 What is the duration of TV bracket Singapore process?
 As TV bracket Singapore needs proper alignment and making sure the TV is tuned properly to show the required programmes, the wall bracket mounting takes about 30 minutes.
Question 4
How long will TV wall bracket Singapore installation with TV Brackets SG lasts?
TV wall bracket Singapore installation done by TV Brackets SG will last a lifetime. This is because we will carry out the right installation by holding your TV within its weight limit.
Question 5
Can I use cheap TV bracket quality for my TV wall mount to save cost?
As a matter of fact, cheap wall bracket quality is not good. You need quality and durable TV brackets Singapore as offered by us at TV Brackets SG.
Wrap Up
Using TV bracket Singapore to mount your newly bought plasma TV is considered necessary for safety and optimal viewing experience.  TV Brackets SG is reputable Singapore Company experienced in the supply of different kinds of universal TV brackets. In addition, no other company in the whole of Singapore is experienced in TV mounting and supply of the following products:
(1) Fixed Brackets
(2) Tilting Brackets
(3) Full Motion Single Arm Mounts
(4) Full Motion Double Arm Mounts
(5) Ceiling Mounts
(6) TV Table Stands
(7) TV mobile Stands
(8) Gas Strut TV Mounts
(9) Gas Strut Desktop/Monitor Mounts
Do you have any question or want to learn more about our products and services? Click here now!