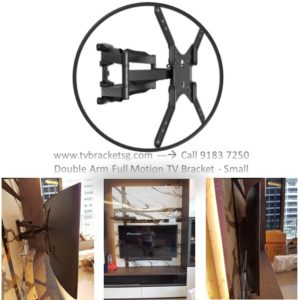 TV bracket Singapore installation can be a stressful task, particularly if you are not a TV wall mount professional. To have good picture quality and other exceptional features, quite a lot of homeowners are now changing their old TVs to newer ones with latest technology. But it is quite unfortunate that a number of these homeowners make mistakes when it mounting these modern televisions.
Continue reading to understand some of the frequently made TV mounting mistakes in Singapore by homeowners and how to avoid them.
Mistake Number 1 – Ignoring the Help of an Expert
Overlooking the assistance of professional TV wall mount professional in Singapore is one of the frequently made mistakes of homeowners. With the help of an expert like TV Bracket SG, TV mounting can be an easy task. However, there are a number of issues that can turn easy TV wall mounts into a catastrophe.
Solution – Seek the help of professionals for better and more efficient TV bracket Singapore installation.
Mistake Number 2 – Making Use of Wrong TV Bracket Singapore
Using the wrong and inappropriate TV brackets is another common mistake of homeowners in Singapore. In most cases, newly bought televisions come with wall mounts, but a number of these TV wall mounts are not always appropriate, particularly if you want to include a number of features like the ability to move your television in different angles.
Solution – To avoid this problem, buy the right TV bracket in Singapore to make your TV mounting a breeze.
Mistake Number 3 – Failure to Hide TV Wall Mount Cables
It is imperative to hide wires and cable when installing wall mounts for TVs, but a number of homeowners don't do this. This will affect the reception of your television and destroy the artistic appearance of your home.
Solution – Run cables through the back of the walls. Despite the fact that this can be an extensive job, it will make your home more attractive.
Mistake Number 4 – Failure to Consider the Location of Singapore TV Bracket
Not taking into consideration the position of TV brackets in Singapore in the course of TV mounting is another frequently made mistake of homeowners in Singapore.
Solution – Think about the position or location of your television before the installation of your TV bracket to avoid ugly holes on walls.
Mistake Number 5 – Failure to Measure Before TV Mounting Singapore
Quite a number of homeowners don't measure before carrying out TV wall mounts in Singapore. This will affect your viewing experience as well as the integrity of the Singapore TV mounting.
Solution – The best way to avoid this mistake is to measure the wall two times before drilling holes or cutting the wall.
Conclusion
The entire frequently made TV bracket Singapore installation mistakes committed by homeowners above can affect the appeal and appearance of their homes.
TV Bracket SG is a Singapore company that provides reliable services with regard to universal TV Bracket and TV Mounting, TV Floor Stand, Full Motion TV Mount, Tilting Bracket, Fixed Bracket, TV Floor Stand, Gas Strut TV Mounts, TV Table Stands, Gas Strut Desktop/Monitor Mounts, Ceiling Mounts, Full Motion Double Arm Mounts and Full Motion Single Arm Mounts Services in Singapore.
Do you want to avoid these frequently made TV mounting Singapore mistakes? Click here.