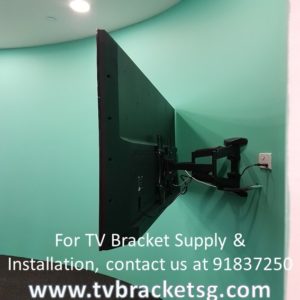 Are you hearing about TVBracketSG for the first time? This is to inform you that TVBracketSG is the best supplier of TV brackets in Singapore.
As a result, if you have just bought a new television set in Singapore, wall mounting it is very important. Mounting your new elegant TV on the wall is the best way to prevent it from falling off. In addition, it will save you from having to turn your neck to watch your interesting programmes.
Do you want to wall mount your television for convenient and easy viewing? Look no further than TV bracket Singapore from TVBracketSG.
Here are five tips for shopping for TV bracket Singapore from TVBracketSG.
The Height and Position
Before making a choice of TV bracket in Singapore, inform TVBracketSG to help you get the measurement of the area where you want to place your TV. We understand how high up your television should be. As a result, we will advice you concerning the distance above the ground and give you the TV wall bracket suitable for that height.
The Location of Your Television
You need to consider where you want to mount your television when shopping for a new TV bracket in Singapore. At TVBracketSG, we will establish where to place your television in your home. Furthermore, we will consider the factors in each room—such as furniture, sunlight, etc. to make sure your TV is located in a place where you will have a wonderful viewing experience.
We won't place your TV opposite a west-facing window because you will probably experience glare by the time the sun goes down, and this can be very frustrating. Our team of experts will rearrange the furniture in your home to offer you an utmost viewing experience. Once we determined where to locate your TV, we will then measure that area to determine the best TV bracket Singapore option.
The Right Tools
Before installing your TV bracket in Singapore, ensure you have bought the exact one that can hold the weight of your television. TV wall brackets Singapore can be extremely easy to mount when you use the right tools.
In addition, the right TV bracket from TVBracketSG will hold your heavy television firmly to the wall. However, request for the wall mount suitable for the exact measurements of your television.
Distance for Viewing
When it comes to the distance for viewing, different people have contrary opinions about what makes for the best and comfortable television viewing experience. A number of them prefer sitting as close as possible to the television for their own most immersive experience, while others have more sensitive eyes and prefer to sit farther back to enjoy their television programmes.
TVBracketSG generally recommend multiplying the digital width of the television by 2.5 so that you can discover the best distance from seating.
Confirm the Measurements
Double check the measurements before you install your television, and fix your TV bracket Singapore permanently to the wall. When you get all the measurements right, you won't end up committing blunders that could damage your wall for good.
Contact us at TVBracketSG 
At TVBracketSG, offering TV brackets and television mounting solutions that allow for abundant TV positioning flexibility is our watchword. Feel free to contact us at https://www.tvbracketsg.com/contact-us/ with any question you may have concerning our TV wall bracket options.
You can also Call / SMS / Whatsapp : +65 9183 7250 for more information about our products and services or send an email to: enquiry.tvbracketsg@gmail.com for enquiry about our product line-ups.