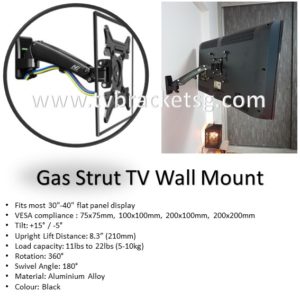 Due to some mistakes committed by people while mounting their TV on the wall, their TV comes crashing down on to the floor out of a sudden. Obviously, you do not want to let this happen to your expensive TVs. It is better to take a lesson from the mistakes committed by other people rather than learning it in a hard way.
Location
It is one of the first things that you need to consider while installing a TV bracket in Singapore for hanging your TV onto the wall. While choosing a perfect location, you have to keep in mind things like lights, sun exposure, viewing angles, etc. Also, you have to pay attention to where you are going to place other connected devices along with a power outlet.
The hanging of wires just like that in the air does not look great to the eyes. So, you have to keep these things in mind before choosing a perfect spot for wall-mounting your TV.
Requirements
Before starting the wall-mounting process, you have to make sure that you have everything in hand what you are going to need meanwhile. It is better to keep certain things close by as you would not like to risk your TV hitting the ground.
So, things like a screwdriver, a drill, proper-sized anchors, a stud finder, etc. are the most necessary supplies for mounting a TV on the wall.
Choosing a wall
A drywall is not going to support the load of your TV and hence, you need a stud to hang your TV mount. You can even look for a wall that is quite considerable than the dry one. Otherwise, you have to face consequences for the same. If you do not know what we are talking about, then you should a professional advice for the same.
In case, your living room has exposure to sunlight, then it is better to go with swiveling mounts rather than the stationary ones. If you are going with stationary mounts, then make sure that you could access ports easily. So, it is advised to choose a right bracket for mounting your TV.
Seek a professional
If you have not installed your TV mount properly on the wall, then your TV is at potential risk. It is better to seek a professional than installing it all by yourself.
You can choose our services as we have only professionals in our team. Not only services but we also offer a wide range of TV brackets where you can choose the best one for you.