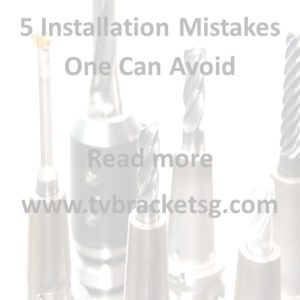 If you do not know enough about TV bracket Singapore, then installing a TV wall mount can get very tedious. These days, with the up and coming new designs in TVs, getting a wall mount is becoming indispensable for people in Singapore. If you are planning to get a TV bracket Singapore for yourself, then this article will be of help.
What not to do when mounting TV bracket Singapore
A lot of people make some common mistakes when they undertake the task of mounting a TV bracket. In order to avoid those, you need to first know what they are. Here is a list of mistakes you need to be aware of:
Overestimating yourself
It is true that a most of the wall mounts come with instructions which help you in mounting the bracket. But, there is a reason that professionals are called in to do such work. Also, if you have a busy schedule, then doing the whole process yourself might get you frustrated and you might even end up damaging your TV and wall.
Choosing the wrong TV bracket Singapore for your walls
The compatibility of the walls and the TV bracket is what most customers are not aware of. Also, your TV needs to fit the wall mount perfectly. You can do some research before you buy one or ask for the help of professionals.
Mounting the TV bracket in the wrong place
It is very important where you place your TV. Once it is done, you cannot remove the bracket without hassle. It is always better to think before you put the final stamp on your wall. Also, you might end up mounting your TV in such a place the whole family will have difficulty in watching TV together.
Leaving out the cables
There are a whole lot of cables that will be required when you want to set up your TV with the TV bracket Singapore. They will look extremely unsightly with the aesthetics of your home if you leave them hanging. Also, your TV might have difficulty in receiving signals if the wires are not placed in a correct way.
We mentioned some of the mistakes that you can avoid easily if you ask for help from professionals. We offer service in this regard and we have been doing it for more than 5 years. All you need to do is contact us and we will be at your service in no time.