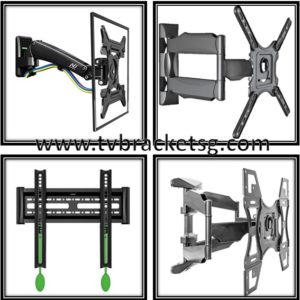 One of the amazing things about HD television sets is that these can be easily mounted on a wall due to their flatness. It saves a lot of space in your bedroom or living room that would not be possible with earlier giant tube TVs. But every TV bracket is not of the same quality and hence, you have to choose wisely. There are some points that you need to keep in mind before laying a hand on a TV bracket. Let's get started on our guide on how to choose a TV bracket in Singapore!
Based on TV's specifications
The very first thing that you should pay attention to before buying a TV bracket is the exact measurements of your television set. Choose a TV bracket that fits exactly your TV's specifications. Most TV brackets are designed in order to fit certain sizes and weights of TVs.
For instance, if you have bought a TV bracket that only supports 32-inch television whereas your television is of a 52-inch screen. Then, there are high chances that your TV might come crashing to the ground. So, it is important to buy a mount that supports the weight and height of your TV.
Decide on Swivel
The next thing that needs your attention is rotation whether you want the wall mount to remain stationary or to swivel. Most of the brackets can only perform one function out of these. You can go with any of these based on your requirements whereas, it is best to go with stationary ones.
Choose an arm or not
If you want your TV at some distance from your wall, then you can go with a TV bracket having an arm. In case, you want it stuck on the wall like a picture frame, then you can go with other TV brackets. Choose any of these according to your space!
Check for the price
You can go with cheap TV brackets as they will do the exact same job as similar to the expensive ones. But are you willing to take chances with your expensive TV sets with these cheap wall mounts? It is better to go with high-quality ones as you might not want your TV to come falling on the ground. Whereas, please ensure that you do not overpay for a TV bracket.
So, you can buy a perfect TV mount at reasonable prices from our site whereas we also provide installation services. We believe in providing the best to our customers, so, they do not have to think twice before choosing us again. Choose our services for a better experience!