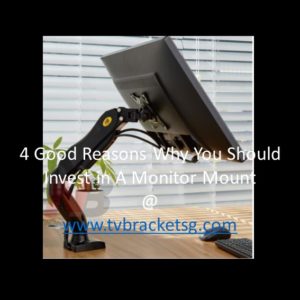 Over the years, the way our workstations have been set up has drastically changed. People are looking for more versatile setting which enhances performance and focus on the job. Nowadays, many people are shifting from the traditional setting of the desktop and opting for the monitor mounts and arms and there is a good explanation for that.  Monitors or the desktop take up a lot of space on your working desk while with monitor mount, you end up saving desk space which in the long run helps reduce the desktop clutter. More importantly, with a monitor arm, you can be able to position the monitor in an ergonomic position to enhance your viewing experience.
If you are looking for TV bracket Singapore, you have come to the right place. We specialize in installation and assembly services for all types of televisions. Our installers are well trained with more than 5 years of experience in this industry. Apart from offering TV brackets Singapore, we also offer products such as mounts, tv mobile stands, ceiling mounts and monitor mounts. You can get in touch with us if you have any questions regarding mounting and installation services.
Investing in a Monitor Mount
Before going to buy a desktop mount, you need to first assess whether or not you need it. Is there anything that you can do to improve your situation given what you already have? How do you position your monitor correctly? If you are unsure about this, contact TV Brackets Singapore for advice on how to go about the process of installing the monitor mount. Even so, investing a good monitor mount such as the gas-strut monitor mount that we offer at a reasonable price is a nice idea. Here are some of the reasons why you need a monitor mount.
Traditional Desktop Setting is a Health Hazard
If you have been using the traditional set up of the desktop mounts, you must have realized that you are straining a lot mostly on your neck and eyes. This is one of the complaints that we get from people opting for the desktop mounts. With a desktop mount, you will be able to adjust the height into a position that you are mostly comfortable with. In addition, you will also be able to play with the depth of the mount and in most cases, the viewing angle of your monitor which should be able to give you the most comfortable position.
If you are unsure about the correct viewing position, you should have the monitor mount approximately placed at an arm's length away from your eyes with the top of the mount slightly edging away from you. While viewing, make sure that your neck is relaxed and not looking up and down.
Bring an Ergonomic Design Concept
Apart from improving health status of the user and saving up space, which will cover later, one of the reasons why TV bracket Singapore advocates for the monitor mount is because they are easily adjustable which enables the users to sit in front of monitor in a relaxed position. With a monitor mount, users do not strain, however, you have to adjust the viewing angles appropriately. In addition, if you want to improve your sitting posture, you should get a desktop mount.
Versatility
Apart from the basic monitor mount adjustments such as height adjustments, depth adjustments and angling, most of the monitor arms allow you to do more complex positioning. For example, you can easily switch from the landscape to portrait mode or to easily adjust the dual monitors from side by side layout to stacked one over the other configuration. With a mount such as the gas strut monitor mount, you can easily customize your working area according to your preferred style.
Save More Space
With a monitor mount, you are able to save up more space, clearing the clutter and freeing up most of your desktop space. Basically, with the mount, you are able to get the monitor up and off the desk which creates more space. This is advantageous especially where you have multiple mounts. By mounting the desktops, you are able to create or save more space that you can use to spread out and keep other valuable materials.
There are so many advantages of using the desktop mounts including enhancing the viewers posture and focus. We also deal with the gas strut tv mounts which work similarly to the desktop version. Check out our store for more affordable and quality TV bracket Singapore or get in touch with us if you need help with the installation process.