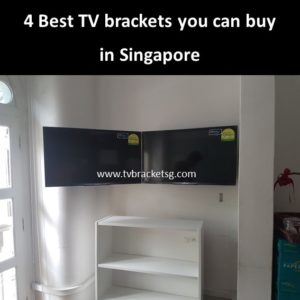 TV mounting has become quite popular and essential in almost every home in Singapore. It gives you a better viewing experience than setting a TV on a stand. Before deciding upon the TV bracket of your choice, you should be aware of the best options among TV brackets that are available in Singapore.
Listed below are the 4 best TV brackets that deserve your attention while you embark upon the journey deciding the perfect one for you:
Full motion TV Bracket: The full motion TV bracket is the best choice for LCD and Plasma TV screens. It comes with a stout and high quality built that can take the maximum weight, up to 88 pounds. In Singapore, you will find various types of full motion TV mounts of high quality which are designed to save space. The best part is yet to come. You can swivel the TV screen to maximum degrees to have a full and comfortable view of the TV screen, irrespective of the position you are in. Typically, these types come at a higher rate and are slightly difficult to install. We recommend that you ask the help of an expert and do not compromise with the quality of a full motion TV bracket.
Tilting TV Bracket: the tilting TV brackets are specially designed to spare you from the irritating glare of the TV screen and you can tilt the angle of the TV to suit your eyes. It mostly comes with a 15-degree tilt facility that is easy and smooth. It also compliments almost all the latest models of TVs. They come with the additional advantage of being very easy to install.
Low profile TV Bracket: for those who want the TV to stick the closest to the wall, a low profile TV bracket is the best option. However, once installed the position of the TV cannot be moved. But they look tidy, almost like a painting on the wall. This type of bracket matches with most flat screen TVs but is ideal for LED TVs.
Ceiling Mounts: Ceiling Mounts are known for their ability to fit in almost all kinds of TVs, be it plasma or LCD. It comes with a choice of a height of 26"-35.4" from the ceiling. They are generally mounted on your ceiling. Apart from moving right and left, they can also be moved to various other angles and you can watch your TV while even lying down in any part of your room.
We hope this guide will be helpful for your future shopping of TV brackets by helping you to choose smarter.