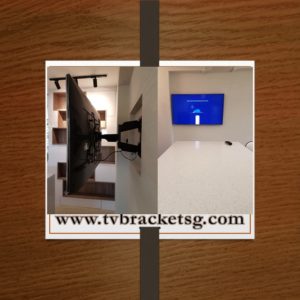 Quite a lot of people believe that wall mounted flat screen televisions are for wealthy people alone. If you use TV bracket Singapore from TVBracketSG to mount your TV above the fireplace in Singapore, people around you including your neighbours will group you among the rich people.
Read on to learn more about how a dynamic TV bracket Singapore supplied by TVBracketSG will save you some bulks.
1. Protection
TV Brackets Singapore will protect your television from your pets and kids. This is because it you use the piece of equipment to mount your TV, it will keep it at a safe distance from all your enchanting canines. Keeping your television mounted on the wall with TV bracket Singapore bought from TVBracketSG is the best way to protect the TV and make it last longer.
TVBracketSG will make sure your television is mounted in a place where nobody can tamper with it.
2. Medical
Watching your favourite TV programmes from uncomfortable angles can be frustrating and annoying. With TV wall brackets distributed by TVBracketSG in Singapore, your television will be mounted in the best angle where you don't have to give yourself neck pain that will cost you a lot of money when you visit the hospital.
Using one of the TV brackets Singapore from TVBracketSG to place your TV at a convenient angle of your room will ensure your spinal alignment and prevent you from spending unnecessarily in the hospital. Just consider all the money you will save on adjustments and prescription orthotics.
3. Space
TV cabinets, hutches, entertainment centres, monstrous and other TV mounting systems occupy a lot of space. But when you use a dynamic TV bracket Singapore from TVBracketSG you will save reasonable amount of valuable space, which must have cost you huge amount of money to buy. Wall mounting your televisions, using TV brackets in Singapore is a sure way to conserve space for other valuable materials in your house.
Without mincing words, TV brackets from TVBracketSG are certainly versatile and of good quality.
About TVBracketSG
It is noteworthy that TVBracketSG is the best supplier of all types of universal TV brackets in Singapore. We are very efficient in our mounting services, making us stand out from the crowd. As a result, no other supplier can compete with us when it comes to exceptional and quality product lineup such as TV Wall Mounts, TV Brackets, Fixed Brackets, TV Floor Stands, Full Motion TV Mount, Tilting Brackets, and lots more.
Our professionals are skilled and competent enough to offer you the fast and quality mounting services you deserve. They will work hand in hand with you to put everything in place in the right way. Just visit our website at www.tvbracketsg.com and tell us how you want us to help you.
Call to Action
Contact us at https://www.tvbracketsg.com/contact-us/ for all your supplies and services in TV brackets Singapore. Visit https://www.tvbracketsg.com/product-and-services for all our products and services and further information about us. You can also Call / SMS / Whatsapp : +65 9183 7250. You can also send an email to: enquiry.tvbracketsg@gmail.com