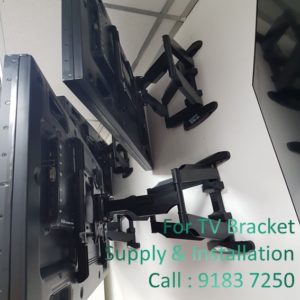 Are you looking for the right LCD TV bracket Singapore to mount your television on the wall properly? If yes, then it is very important for you to know the types of TV brackets Singapore you can choose for your LCD. There are diverse kinds of TV mounts available on the market to cater for your varying needs and requirements. This will make you identify the suitable one for your home use.
By and large, there are three types of LCD TV brackets in Singapore that you should consider when shopping for a new wall mount for your new LCD. Continue reading to learn more about these TV wall brackets.
The Tilting LCD TV Bracket Singapore
This type of wall mount has a pivoted located at the middle of the bracket. This is to make it possible to ensure suitable viewing angle and lets you adjust the viewing angle of the mounted LCD television conveniently. With tilting TV bracket, you can adjust the vertical viewing angle of your television, and this is an added benefit to the wall mount.
As far as functionality and use is concerned, tilting LCD wall mount is like the full motion TV wall-mount. This type of wall mount is difficult to install for just anybody, particularly a novice. But TVBracketSG is a professional TV bracket contractor in Singapore that can help you install your tilting TV bracket in Singapore.
Low Profile LCD TV Mount
This type of TV mount is affordable and the easiest to install among the three types of LCD TV brackets in Singapore. But you need to understand that you cannot adjust this type of TV bracket Singapore once it is installed. In other words, you cannot move or tilt it even if you want to do so. Attaching or switching cables on your LCD television can become a daunting task for you, because of its fixed installation. You have to remove the TV from the wall when you want to change or fix cables, as there is no other way to tilt or move your LCD TV.
The Full Motion LCD TV Bracket in Singapore
The full motion TV brackets in Singapore offer full motion tilting feature and it is complicated to install for a non professional.  Installing your full motion LCD TV wall mount is a breeze with TVBracketSG in Singapore.  This wall mount often comprise of moving pieces, which work to allow you adjust the bracket horizontally or vertically.
To install this piece very well, you will need 2 to 3 people to help you. the arm holding the bracket to the wall will let it be adjusted according to your viewing choice easily.
If you want to buy and install your LCD TV bracket in Singapore, turn to us at TVBracketSG. We are the best supplier of all types of universal TV Brackets and provider of incomparable TV Mounting Services in Singapore. No other supplier has a product line-up that contains so many different types of TV brackets like us.
You can also buy your TV Floor Stand, Fixed Bracket, Tilting Bracket, Full Motion TV Mount and etc. from us. We are the best supplier with a product line-up with quality, durable, and affordable TV Stands, TV Mounts, and TV Brackets.
Visit our website at https://www.tvbracketsg.com/product-and-services for more information about our services or contact us at https://www.tvbracketsg.com/contact-us/ for further enquiry. We available to meet all your needs!