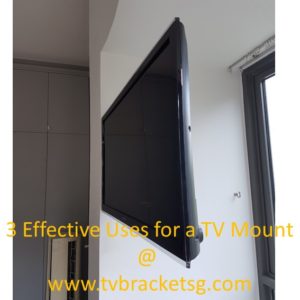 There are more than 120 million TV sets that are being used at this very moment. There is, in fact, very less doubt that we all love our television sets. Some place them on their tables or cabinets while others make use of TV brackets to mount their TV sets (flat screen TV sets only) on their wall.
With more advancements made in the field screen technology, TV sets today are getting lighter and thinner than ever before. This factor makes it easier to have them mounted on the wall. Hence, getting the perfect TV mount is much more paramount than you would have thought previously.
Three effective uses for a TV mount
The three most common yet effective ways a TV mount is used for are:
Reduces glare from windows and lights
With the help of a TV mount, you will be able to position your flat screen television set in any manner possible; this also depends on the type of TV mount you end up purchasing. However, there is a certain advantage that is common in all types of TV mounts – the ability to change the viewing angles. With the help of a TV mount, you will be able to change the position of the TV to reduce reflections from the windows and lights. All you need to do is adjust the angle of the TV as the light changes its direction throughout the day.
Saves you a lot of floor space
With the help of a TV mount, you will not need any other additional furniture for your television set. Wall mounted TV sets are so thin that they can be secured very close to the wall with the help of a good TV bracket. This case is helpful especially in premium spaces, where a TV wall mount is the only thing that can make a flat screen TV a viable option.
Prevents neck and eye strain
Mounting a flat screen TV on a TV bracket will help your neck and eyes relax because you can move or tilt the mount to an angle that you prefer. TV brackets offer a lot of flexibility when it comes to providing better viewing angles; you also do not have to put in extra effort to watch your daily soap.
Wall mounting your television set will become very easy with the help of our services. We will provide you with the perfect TV bracket Singapore. Just drop us a text and we will revert back to you as soon as possible.
Where to hide cords of a wall mounted TV?
After mounting your TV on a wall, you might be thinking of what to with the dangling wires in the wire. You have undoubtedly enhanced the look of your living room by replacing your old TV with the new one but hanging wires ruin the ambiance for sure. So, what to do with these wires running all around the wall?
Now, there are certain ways to hide cords of a wall mounted TV. You can make use of any of these methods to hide the hanging wires. Let's get started with our guide on how to hide wires for a wall mounted TV!
Method 1: Use of Cord Covers
One of the easiest ways to hide cords for a wall mounted TV is through cable covers. If you have successfully mounted your TV on the wall but left with cords running all around then, covering these wires with cord covers is the best solution for you. Nowadays, you can get cable covers in all colors, which you can choose according to your room's décor.
If not, you can customize these covers according to your taste. So, this is one of the easiest ways to get rid of dangling wires of the wall mounted TV.
Method 2: Moving the powerhead
The other way to hide wires of a wall mounted TV is hiding the wires behind the TV itself. It can be done while mounting your TV on the wall. Most people prefer this method for a cleaner and nicer look. For this, you need a professional who will move the power supply switch behind your TV.
It is the perfect way to get rid of any dangling wire. So, give this method a thought before mounting your TV on the wall.
Method 3: Use of wall plates
Another way to hide the hanging wires of a wall mounted TV is through wall plates. For this, you need to place these plates behind your TV. These plates have enough space to hide all wires and run them to the nearest power supply. In order to wall plates, you have to cut an opening in the drywall and screw the plate there and run wires through it to the other end.
Before going on with these methods, consult a professional as it might be dangerous to toy around the power supply. You can make use of our best services as well as products for a better mounting experience. We offer the best to our clients and hence, choose the best TV Bracket in Singapore from us to avoid the mess later on.